Jetblue (JBLU) Rounded Bottom Has Neckline at $20
Jetblue $JBLU has been consolidating. since August 2018. The daily chart below shows price ranging roughly between $20 and $15.25.

JBLU Daily Chart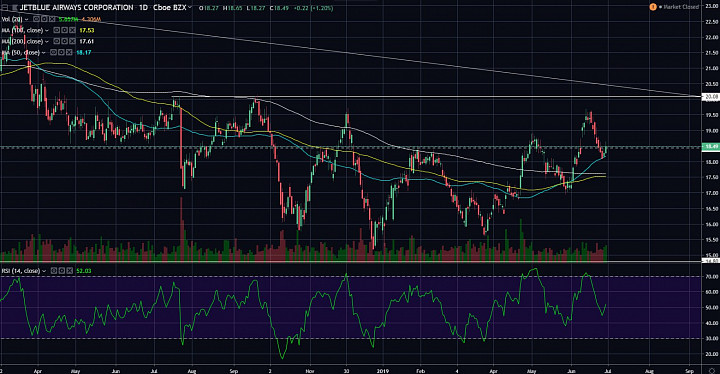 (click to enlarge)
Consolidation/Rounded Bottom:
- Going into the second half of 2018, Jetblue has been in a bearish correction mode.
- However, we can see now that price eventually shifted sideways.
- There is a rounded bottom developing on the daily chart.
- There are some bullish signs on the daily chart. Price is now trading above the cluster of moving averages. The RSI has pushed above 70 and stayed above 40 for the most part since then.
- Still, in this potential price bottom, $20 is the key resistance or neckline.
Key Resistance:
- $20 is indeed a key barrier to break if JBLU is to turn bullish.
- We can see that price would be challenging a falling resistance along with the late 2018 resistance.
- The 200-week SMA is also around $20.
- The RSI is still under 60.
- If price clears the resistance levels and bring the RSI reading above 60, we can say that JBLU has completed a price bottom.
- In this scenario, we have at least the $23.50-$25 support/resistance pivot area in sight.
JBLU Weekly Chart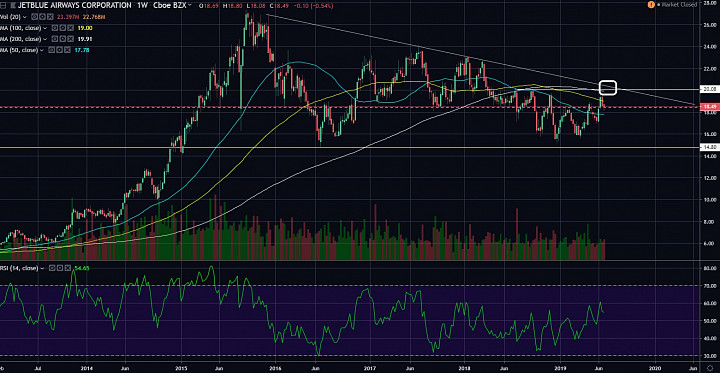 (click to enlarge)