UK GDP Accelerates and Knocks EUR/GBP Back
Recently I have been putting focus on the EUR/GBP as a pair in the "fade-the-rally" set up. Yesterday, we noted the euro-pound at a key resistance after a week of bullish correction. Today, with the help of a strong UK GDP release, the pair is indeed retreating toward the recent correction pattern support as we can see in the 4H chart. 
EUR/GBP 4H Chart 7/28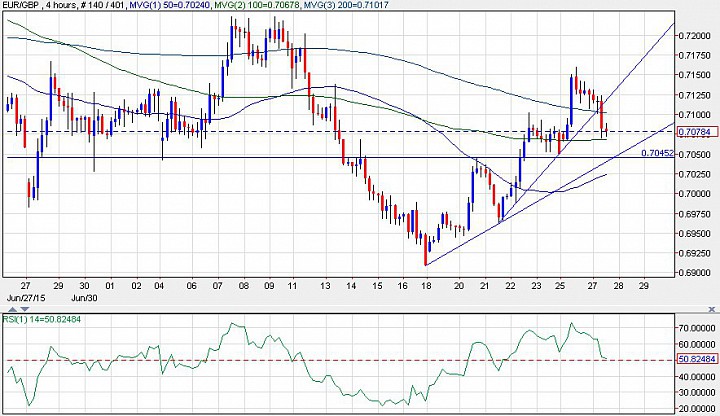 (click to enlarge)
Let's start with the economic release. UK GDP in Q2 is estimated at 0.7%, which would be the 10th quarter of expansion, and much higher than the 0.4% print from Q1. According to Bloomberg.com, the services, finance and oil components were strong contributors to the Q2 GDP growth. 
Now looking at the EUR/GBP, we saw price fall after the GDP release from 0.725 to about 0.7070. I noted yesterday that a break below 0.7045 might be needed to open up the bearish continuation scenario. Now, when price approaches that pivot, whether it cracks it or not, we should anticipate a bullish attempt. Then, if this pullback fails to clear 0.71, we can have more confidence that bears are in charge.