CVS Health Corp. (CVS) Continues to Show Life with a Price Bottom Confirmation
CVS Health Corp. $CVS has been putting in price bottom action since March when price found support just above $52. It traded sideways for months with resistance near $57.75.
CVS Daily Chart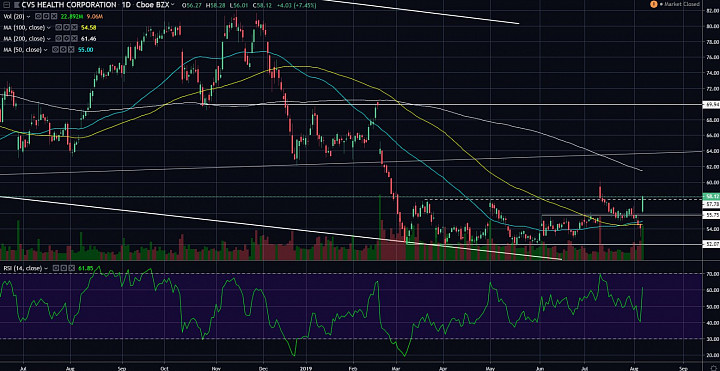 (click to enlarge)
Price Bottom:
- In early July, price broke above the $57.75 resistance, but quickly retreated. It looked like a possible failed breakout.
- However, the pullback was gentle. Most importantly price held above $54, the middle of the previous consolidation range.
- We can also see that the RSI held above 40, which reflects maintenance of the prevailing bullish momentum that caused the breakout.
- The subsequent bounce is sharp and with relatively strong volume, just like the breakout in July.
- This price action is confirming the price bottom and signaling upside at least in the short-term.
- I wouldn't get too excited as the prevailing trend has been bearish since mid-2015 when price peaked above $113.
- I would limit the upside to around the 200-day simple moving average (SMA) just under $62.
- If price extends higher, I would still look at the $64-$65 area as the next resistance. This was a previous support area.
- Looking at the weekly chart, we can see that the RSI has been held under 60, which reflects maintenance of the long-term bearish momentum. This is why I would be so quick to call a bullish trend yet.
- My bullish outlook is only in the short-term to medium-term.
CVS Weekly Chart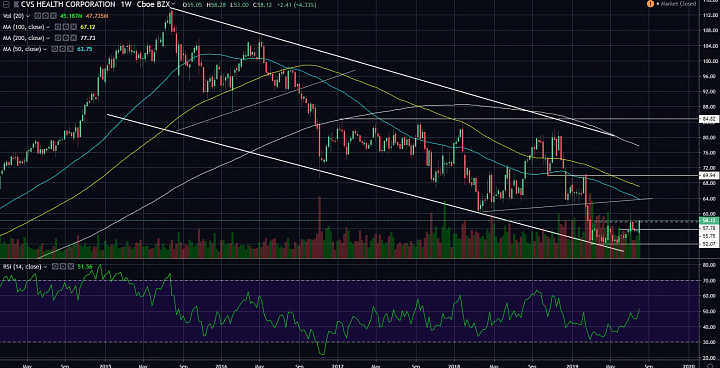 (click to enlarge)