Anticipating Support for General Motors (GM)
Last month, I thought shares of General Motors (GM) have turned bullish again. However, recent price action reveals that it is still in consolidation mode.

General Motors (GM) Daily Chart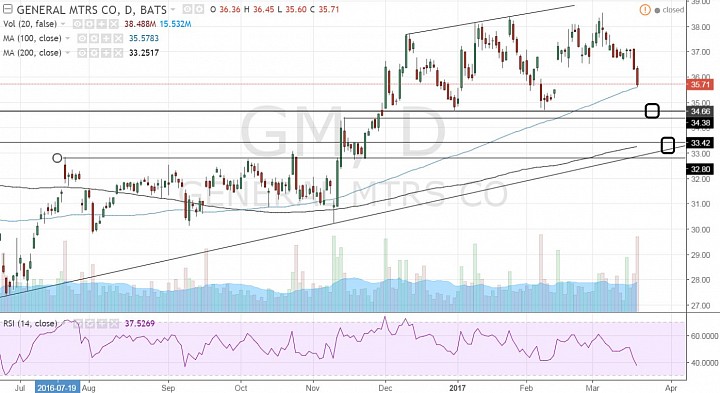 (click to enlarge)
Neutral-Bullish:
- Now, even though price is sliding, the overall mode on the daily chart above is bullish.
- We can say it is neutral-bullish. But we can't say its bearish outside of the very short-term.
- In this very short-term, there is downside risk towards the 34.50 area, and possibly the 33 area, though I think we would see buying around 33.50 if the overall market is still bullish. 
- A break below 32.80 would be needed to turn the technical picture bearish.
The Support Levels:
- The first key support is around 34.50. This is a support/resistance and common support area. 
-  Below that, the 32.80-33.50 area will be key. This area involves 1) a rising support, 2) a support/resistance pivot, 3) and the 200-day simple moving average (SMA). A bullish market should probably not reach down to 33.00 but rather stay above 33.50. 
- In fact, I would like to see support around 34.50 to strengthen the bullish outlook, which should first be limited to 38, but ultimately to 40.