USD/CAD - Reaction After Jobs Reports Seems to Confirm Bullish Breakout
Last week, we saw a bullish breakout in the USD/CAD. This occurred before important jobs data came out on Friday for both the United States and for Canada. First, here are Friday's data points:

US NFP disappointed but it looks like the Fed will still raise rates 2 more times this year.
March: 98K
Forecast: 174K
February: 219K (Revised down from 235K)
Unemployment Rate:
March: 4.5%
Forecast 4.7%
February: 4.7%
Average Hourly Earnings (m/m)
March: 0.2% 
Forecast: 0.2%
February: 0.3% (revised up from 0.2%)

CAN Employment Change:
March: 19.4K
Forecast: 5.7K
Previous: 15.3K
CAN Unemployment Rate:
March: 6.7%
Forecast: 6.7%
Previous: 6.6%
Now, I don't think the jobs data this month will have much impact on the Federal Reserve or the Bank of Canada. It certainly didn't swing one way for one country and the opposite way for the other. But, we initially saw some bearish reaction in the USD/CAD, as we can see on the 4H chart below: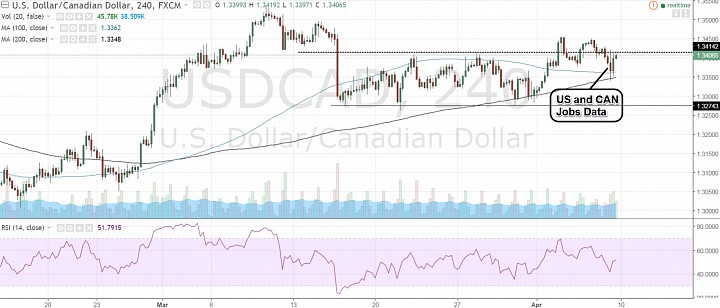 Price Anchored:
- The bearish price action held as it tested the 1.3350 area. 
- It essentially tested the middle of the broken range and so far respected it. 
- Price action also bounced off the 200- and 100-period simple moving averages, which is a sign that it is turning bullish in this time-frame (for the short-term)
- Furthermore, the RSI held above 40 after tagging 70. This shows maintenance of the new bullish momentum.
- For these reasons, I think price has upside towards the 1.3530 high in March, and then the Q4 2016 high around 1.36.