Jobless Claims Continues a Healthy Trend; More Jobs Data this Week
The number of people applying for unemployment benefit in the US has been falling since the financial crisis. This trend is continuing, though we might see some noise week to week. The latest jobless claims number was 234K, lower than economists' forecasts averaging 251K, and lower than the previous week's reading of 259K. According to tradingeconomics.com, this is a 5-week low.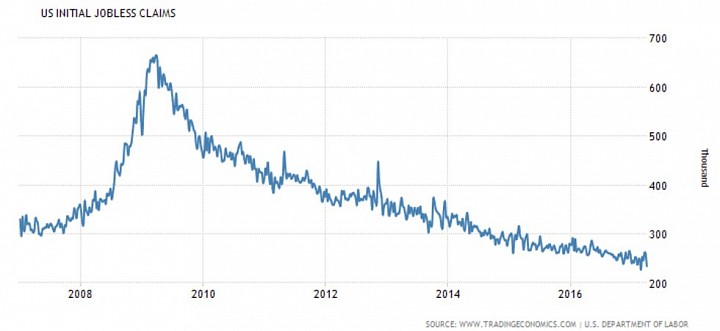 (courtesy of tradingeconomics.com)
A key job market report will come out today (Friday, 4/6). The Non-Farm Payroll will be a highly monitored economic release from the Labor Department.

First of all, January and February were relatively strong months in terms of number of jobs added to the economy.
January: 238K
February: 235K
March (forecast): 174K

Economists expect a bit of slowdown in job growth in March. However, Wednesday's ADP Non-Farm Employment Change number was 263K vs. forecast of 184K. So, we might see another 200K+ reading for the NFP as well.

3 straight months of 200K+ reading will give the Fed more reason to raise rates. This is because most economists claim that an average of 200K jobs per month is a minimal requirement for sustainable growth in this economy. 

Also, we should pay attention to the average hourly earnings (inflation). Wage growth, not just growth in job numbers, is also a key factor for the Fed in considering monetary policy. 

If all these labor market numbers end the week on a good note, we should anticipate some upside in the US Dollar.

The unemployment rate is probably going to be the least significant data point tomorrow.