LYFT - Failed Double Bottom Leads to Further Downside; No Support in Sight
LYFT recently paused its almost immediate downturn after the IPO. It actually looked like a possible double bottom.
Lyft (LYFT) Finding a Double Bottom Above $55
However, that double bottom attempt did not hold as price immediately retreated after completed the double bottom. Then, instead of holding above the mid-point, it sunk quickly during the 5/8 session, and broke the previous low around $55.
This dip coincides with a very disappointing earnings report. Here's a summary from CNBC:
Lyft reported a loss per share of $9.02, adjusted.
While analyst estimates for Lyft's first quarter could have been on the low-end due to a lack of data typical of a company fresh on the public market, Lyft's loss is still significant.
The steep loss still marks an improvement from Lyft's year-ago quarter, when Lyft reported a non-GAAP loss of $11.40 per share.
The silver lining is that these numbers actually show an improvement.
The current strike doesn't help neither.
Global Drivers' Strike Shows Tide May Be Shifting for Uber and Lyft (New York Mag)

It is likely going to test the $50 psychological level next.
$LYFT Daily Chart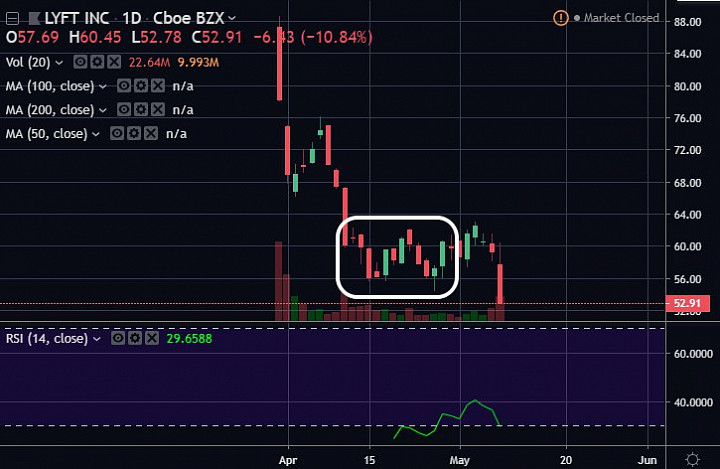 (click to enlarge)
$60 Might be a Key Anchor:
- The 5/8 session showed a strong retreat from $60 after a brief test of this level.
- This will likely become a key resistance going forward (until the next pivot is established).
- In other words, a break above $60 will be needed to show that LYFT has stabilized.
- To the downside, while $50 might offer some short-term reprieve, there is no support. Don't be surprised if price tanks further.
- Also, the longer price falls, the longer we will need for a consolidation period to develop before it can truly become a bottom instead of just a short squeeze.
- With such a negative spotlight on LYFT, a contrarian might start to look for a price bottom. While I am considering some exposure around $50, I would not bet hard on it.