Bitcoin (BTC/USD in a Tight Range Awaiting Breakout; Bullish Bias?
I have not seen Bitcoin (BTC/USD) in such a quiet mode for a long time. Price has been in a $150 range, or a range of less than 2.5% for almost 2 weeks since the "Tether Dump".
BTC/USD 4H Chart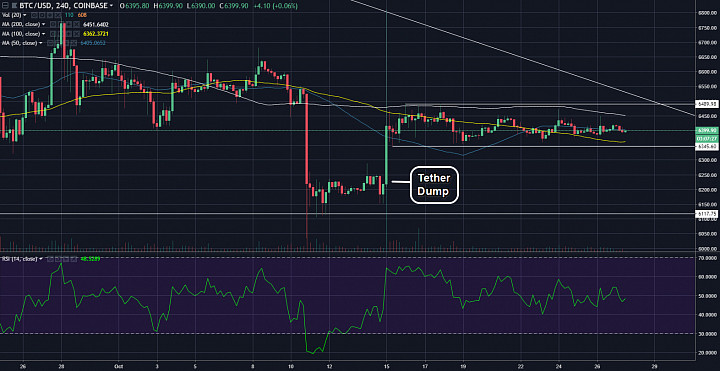 Tether Dump:
Let's start with that weird looking candle on Oct. 15 where price shot up to $6800 on Coinbase.
In fact, it jumped to about $7600 on exchanges that offered Tether (USDT) i.e. Bitfinex, Binance.
As traders dumped tether in these exchanges they rotated into Bitcoin causing an elevated demand for bitcoin in these exchanges.
As a result Bitcoin rallied sharply and unevenly, but eventually prices stabilized around $6400.
On Coinbase, we can see price has settled in roughly the $6345-$6500 range.
Breakout Scenario:
When you look back at historic price action, we rarely have such a tight range for more than a couple of weeks.
When there were such tight consolidation, they were usually (but not 100% of the time) followed by a rally.
So off the bat, there is some bullish bias if we want to refer to historic price action.
However, if price breaks below $6340 for example, we can see a dip towards 2018's common support around $6000.
A break above $6500 on the other hand might send Bitcoin to test the $6800 resistance from September, or even the $7400 high from September.
A break above $7400 for me officially signals a bullish reversal scenario.
Otherwise, if price stays under $7400, we are still in consolidation mode, but may have shifted from a bearish trend to a sideways one.
Below are daily charts from 2016, 2015, and 2014 - I didn't find any extended narrow range in 2017.
BTC/USD 2016: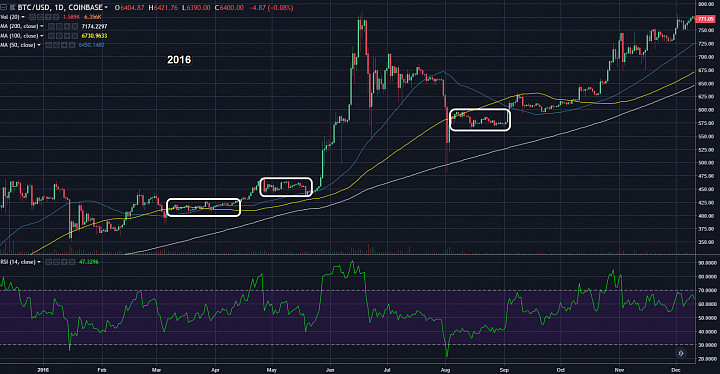 BTC/USD 2015: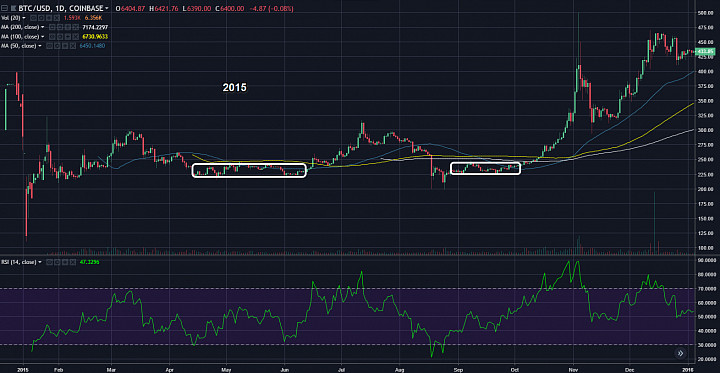 BTC/USD 2014: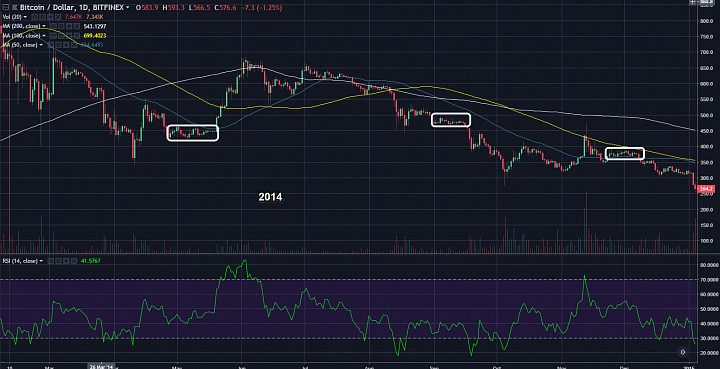 From CoinPowR