S&P500 Cracks 200-day Simple Moving Average, But Remains Above
The week started with more generally bearish sentiment in the equities market. The indices all fell. I will focus on the S&P500 $SPY, which is testing and cracking a key support area.
S&P500 Daily Chart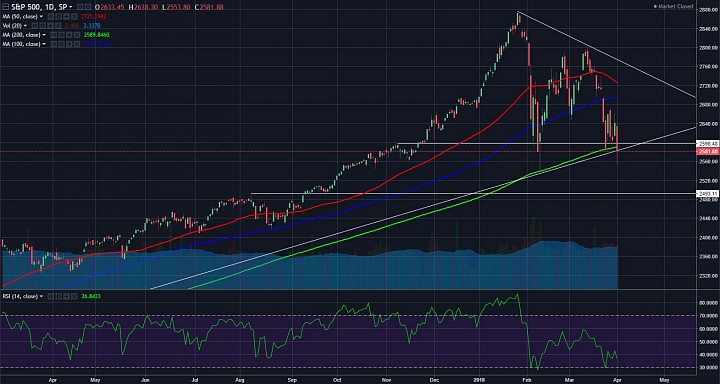 (click to enlarge)
Support:
- When S&P500 came down to about $2585 in March, it bounced off the 200-day simple moving average and respected a rising trendline.
- As we get started in April, price is still digging at this support. In fact, price tagged the $2560 level during the 4/2 session, but did close just above 2580.
- Even though we saw buyers at the end of the 4/2 session, the prevailing price action suggests the market will push price lower.
- Recently, we noted possible support around $2580. But we also noted that a break opens up the next support around $2480-$2500.
- I think this second scenario towards $2500 will materialize.