Square Inc. (SQ) Bounces off Key Support
The market was in a recovery mode during the 6/4 session. Fintech payment company Square $SQ also rebounded about 4% after tagging the $60 level in the previous session. We have anticipated this to be the support level when price was dipping in early May.
Square Inc. (SQ) Opens Downside to the $60 Mark
Now a month later, price is indeed finding buyers at this key support, including myself.
SQ Daily Chart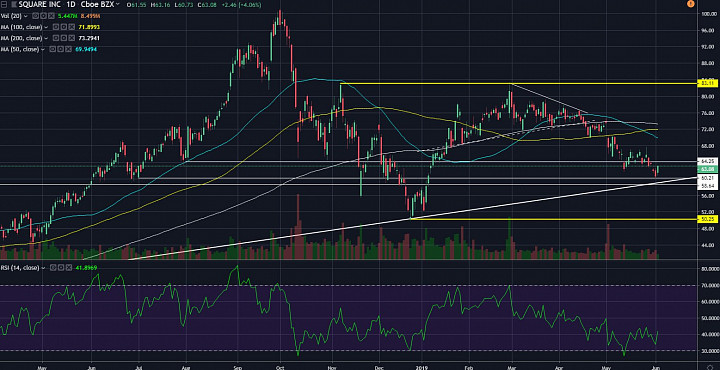 (click to enlarge)
Key Support:
- $60 is a whole number and therefore a psychological support.
- Also, the $58.50-$60 area represents a key support/resistance pivot.
- We can see a rising trendline right under $60 (see weekly chart below)
- It should not be a surprise if SQ mount a rebound here, especially after the RSI developed a bullish divergence with price.
- The thing is, I think if the overall market is still in contraction mode, the upside will be limited to $70.
Consolidation Scenario:
- If price can clear above $70, we might have a bullish continuation and at least an attempt to break above the $80-$83 resistance.
- Otherwise, if price fails to climb above $70 and falls back to $60, I wouldn't be surprised if SQ dips further towards the 2018 low just above $50. A break below $58 would be a sign of further downside towards $50.
- Again, this consolidation scenario is predicated on a prolonged general market correction throughout the summer of 2019.


SQ Weekly Chart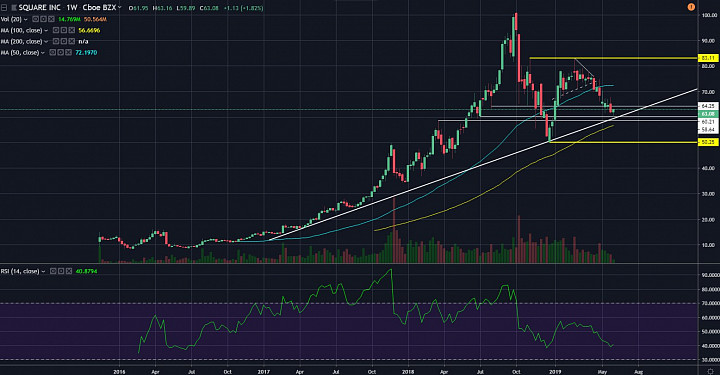 (click to enlarge)