Electronic Arts (EA) Pulling Back; I am Buying
Electronic Arts struggled in the second half of 2018, but I think the long-term trend remains bullish, or at least sideways. In this sideways scenario, we would still see bullish cycles. 7 Months ago, we called the top, though the correction has been much deeper than we thought at the time.
Electronic Arts (EA) Signals Bearish Correction Ahead
After a sharp 50% slide from just above $150 a share to about $74 a share, price has rebounded. We called for a rally from around $70 to $90, but the market bought it higher and pushed price to almost $109 before recently pulling back.
Electronic Arts (EA) Has Upside from $70 Towards $90
EA Daily Chart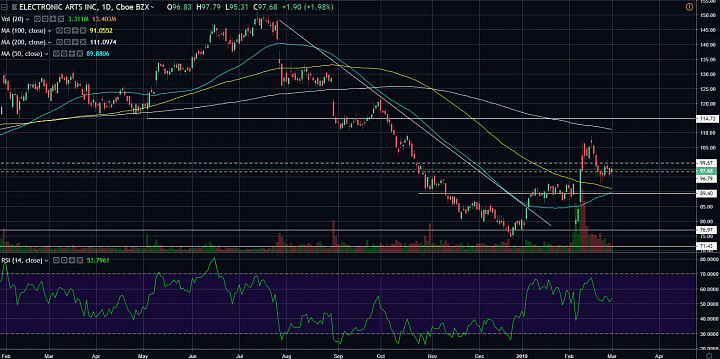 (click to enlarge)
Trend Shift:
- On the daily chart, we can see that the trend has been bearish after topping around $150.
- But since December,price has broken above some key resistance factors such as a falling trendline. I think the most important thing to note is the strong volume here.
- This gives me confidence that the trend has shifted to at least a sideways one if not bullish.
- I think the $89-$90 area will be a key support for the bullish outlook.
- If this area holds as support, there is upside to the $110-$115 area to test the next key resistance.
- A break below $85 would put the bullish outlook on the shelf for now.
Trade Idea with Reward to Risk:
- With this consideration, a buy around $90, with a stop around $82, and a target of $110, would provide a reward to risk ratio that is slightly above 2:1. ($20:$8).