Ciena Corp. (CIEN) - The Art of Catching a Pullback Within a Bull Run
Ciena Corp. $CIEN has been displaying a case study for catching pullbacks within a bullish trend.

CIEN Daily Chart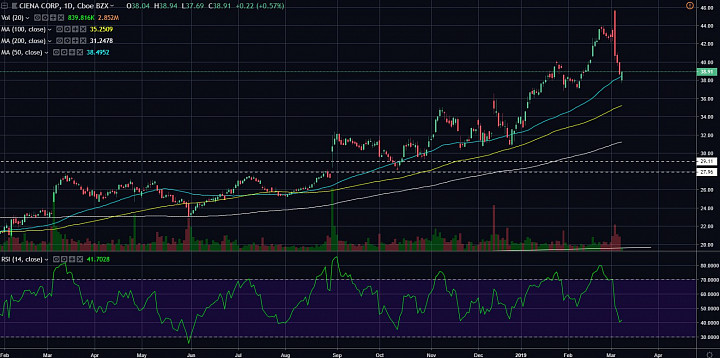 (click to enlarge)
Bullish Signs:
- Let's go back to August/September 2018.
- Price has been consolidating and holding under $28.00 since 2011. (See weekly chart below)
- We saw a bullish breakout in late August with strong volume. A break above an almost 8-year old resistance is a big deal, especially with such strong volume.
- We then saw price come back down to test this previous resistance as support later in October, and the market respected the resistance as support.
- From then, we have seen the RSI push above 70 and hold above 40 on its way down.
- Meanwhile, price action has respected the area between the 50-day and the 100-day simple moving averages (SMAs) as support.
It's Happening Again:
- When we look at the daily chart, we can see that price is again entering this area between the 100-day and 50-day SMAs. Meanwhile, the RSI is right on top of 40.
- Price is also just above a previous support pivot of $37.
Considerations:
-Will the bullish trend continue?
- What if the general market starts to pull back. CIEN has been resilient throughout late 2018, pushing higher even when the indices were pulling back.
- I think CIEN is going to go through a period of consolidation and might fall below the previous support around $37.
- As a more significant consolidation then before, price could also fall below that area between the 50-day and 100-day SMAs.
- However, I think it will hold above the 200-day SMA, and above the $32 pivot.
- The RSI might dip below 30, and if it shows a bullish divergence against price (higher RSI low while price makes a lower low), then I would consider a buy with a target of $42-$44.
- In general, I think I will be preparing to buy around $34, with a stop around $27, and a target of $50. The $42-$44 area will be the first target, where I will move my stop higher to lock in profit.
- A break below $28 would be a bad sign for the bulls, so I would reassess the bullish outlook if price falls below this key level.
CIEN Weekly Chart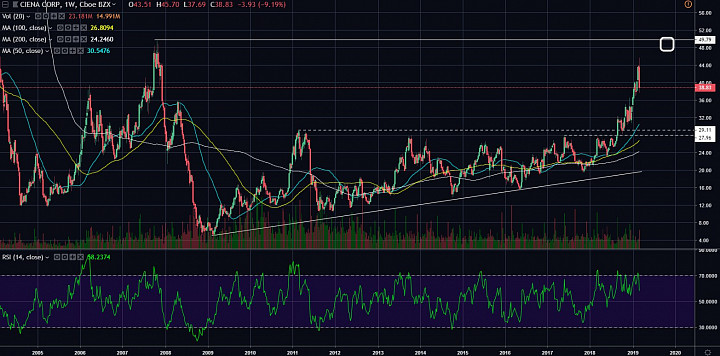 (click to enlarge)