American Express (AXP) Signals More Recover Despite Missing Earnings
American Express $AXP had a mixed earnings report.
Here was the report from CNBC on 1/17:
American Express reported fourth-quarter revenue on Thursday that narrowly missed analysts' expectations and an earnings profit after reporting a loss for the same period a year ago.
Annual profit for the financial services company in 2018 was more than double what it was a year earlier, capping a solid year for AmEx.
Here's how the company did compared with what Wall Street expected:
Earnings: $1.74 adjusted earnings per share vs. estimates of $1.80 per share forecast by Refinitiv.
Revenue: $10.47 billion vs. $10.56 billion, forecast by Refinitiv
Shares of the credit card issuer fell roughly 2.5 percent in after-hours trading Thursday.
American Express brought in $10.47 billion in revenue for the fourth quarter of 2018, an 8 percent rise from a year earlier, according to the company. Still, the number was below the $10.56 billion expected by Wall Street.
...
Its full-year revenue guidance for growth was between 8 and 10 percent, versus Wall Street's expectations of 7.5 percent. The company's full-year earnings per share guidance was forecast to be between $7.85 and $8.35, in line with expectations of $8.12.

From: American Express drops after missing Wall Street's fourth-quarter expectations

The market initially sold from around $100 down to about $97 a share. Within the 1/18 (Friday) session, the market then bought it back up above $100 into new highs on the year.
Ultimately, the markets give guidance more weight than previous quarter's profits. Guidance was in-line/slightly-better-than expectations, which is fueling the current recovery in AXP .
AXP Daily Chart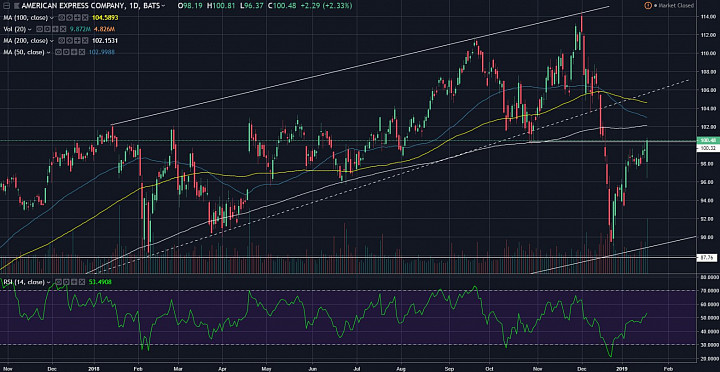 (click to enlarge)
Bullish Engulfer:
- The whipsaw reaction surrounding earnings created a bullish engulfing candle for Friday's price action.
- This price action suggests there is further upside at least in the very short-term, with $104-$105 being where I think price will find resistance.
- The cluster of 200-, 100-, and 50-day simple moving averages is around $104. The market found resistance just under $104 back in 2018.
- Meanwhile, I would expect resistance when the RSI rises to 60 area - assuming that AXP is still in bearish correction mode.
- Of course, there is a chance that the general market correction is over and names like AXP would be back in bullish mode.
- On the weekly chart, we can see that price held above a key rising trendline, keeping the bullish mode intact. Also, price remained above the 200-week SMA, and the RSI held above 40, which reflects maintenance of the prevailing bullish momentum.
- I think it's too early to call this a bullish continuation. I would anticipate more choppiness and sideways action before the market is ready to continue the uptrend - and this anticipation goes for both general equities market and AXP.
AXP Weekly Chart

(click to enlarge)