EUR/USD - Bullish Divergence Suggests Bears are Tired
The EUR/USD has been consistently bearish and has remained so after a consolidation in February. The Fed and the ECB are in different directions in terms of monetary policy, with the ECB implementing QE and the Fed getting ready to raise rates. This should keep the pressure on the EUR/USD towards parity. 

EUR/USD 1H Chart 3/16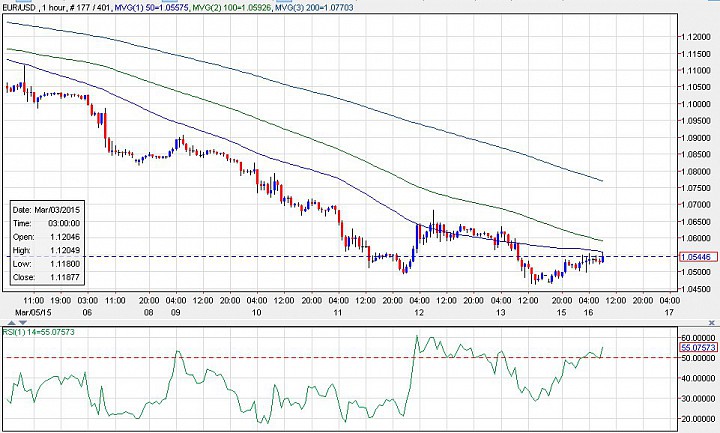 (click to enlarge)
In the 1H chart, we can see that the pair is dominated by bears even in the near-term as price is holding under the 200-, 100-, and 50-hour SMAs. The 1H RSI held under 60, which shows maintenance of the bearish momentum. The only thing we can say against the bearish outlook is that the bearish price action appears to be flattening out a bit. Also, the RSI did not dip to 20 like it did earlier in the month. This shows that bears were not as intense last week.
EUR/USD 4H Chart 3/16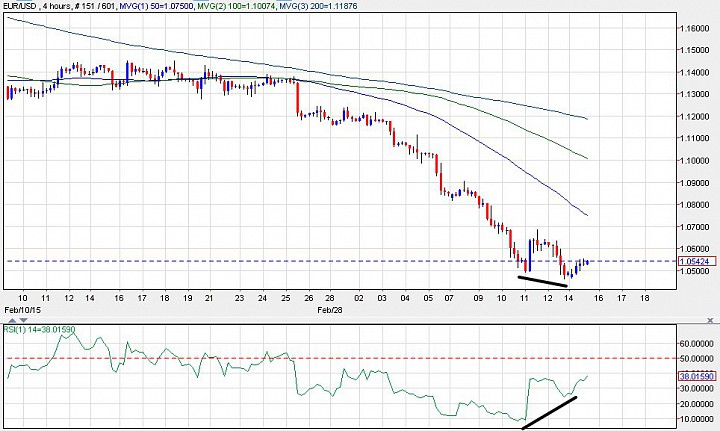 (click to enlarge)

The 4H chart also shows a market dominated by the bearish trend. However, we do see a bullish divergence between price and the RSI , which confirms what we saw in the 1H chart - bears slowing down. 

If there is a pull back this week, we should limit our bullish outlook first to the 1.07 handle, near the previous resistance pivot. This would still allow for an expanded range. Now, if the 4H RSI approaches 60, we should get ready for a bearish continuation attempt if the market is indeed still bearish in the short to medium-term.