Bitcoin (BTC/USD) Going Bananas But with an Institutional Basis This Time
It didn't take long since our last Bitcoin (BTC/USD) assessment for it to reach and break through the 10K target.
When I say it has gone bananas, I literally mean price action looks like a banana.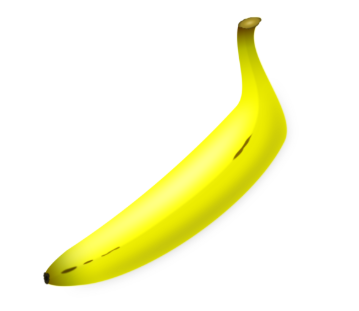 You can also say hockey stick, or parabolic.
the point is, this kind of price action often reflects over-exuberance and Fear-of-missing-out (FOMO)
The thing is, this hype can last a while in an asset like bitcoin (BTC/USD), which has very limited (and expensive) ways to short. No average Joe will be shorting bitcoin - it will be institutional players and at the moment, they are coming into the space to buy.
Also, news is primed to elicit bullish outlook these days with the advent of Bakkt for example on the horizon:
Bakkt Bitcoin Futures Beta-Test Date Set; Is The Crypto Market Ready? (Investing.com)
Institutional Base:
There is some stronger basis this time compared to the 2017 bull run. Back then, institutions were staying away. But this time around, it looks like some are dipping their toes into the waters.
https://twitter.com/CMEGroup/status/1141015074062110721?ref_src=twsrc%5Etfw
Another sign that this is NOT the same type of hype as it was in 2017 is the correlation with bitcoin trends: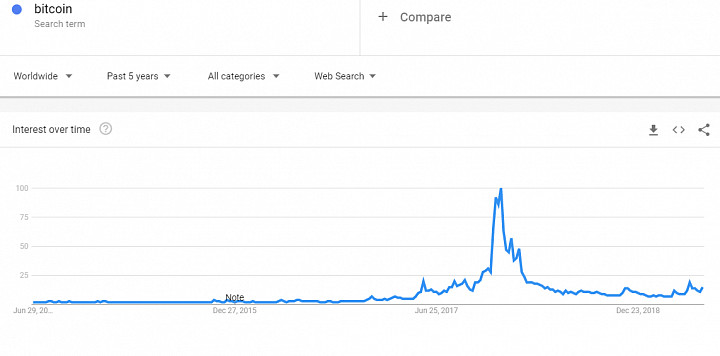 As we can see when comparing google trends above to the weekly chart below, google searches are not surging like it did in 2017. Back then, it was the general public getting interested.
Institutional researchers are not basing their decision to buy bitcoin by googling it. They are the ones joining the fray this time around.
BTC/USD Weekly Chart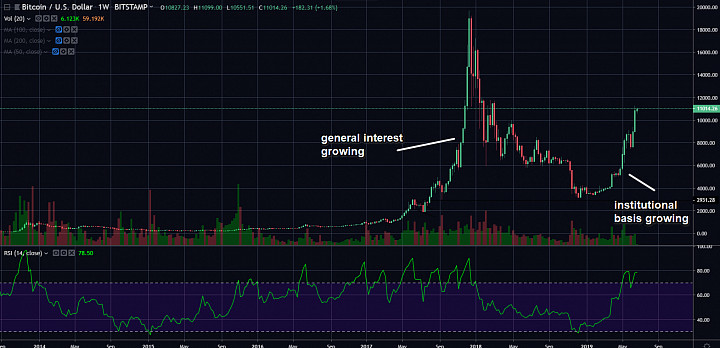 (click to enlarge)
$1200 Stickiness?
The $10,000 mark didn't phase the rally at all.
The $12,000 level provide some stickiness as it did in 2018.
But like we already established, this is a different crow, and the technical levels from 2018 might not be reliable.
Instead, we should probably look at the short-term support/resistance levels to anticipate the short-term moves (don't try to actually pick the top and bottom - just anticipate the short-term swings as being bullish or bearish)
Short-term Levels:
BTC/USD 4H Chart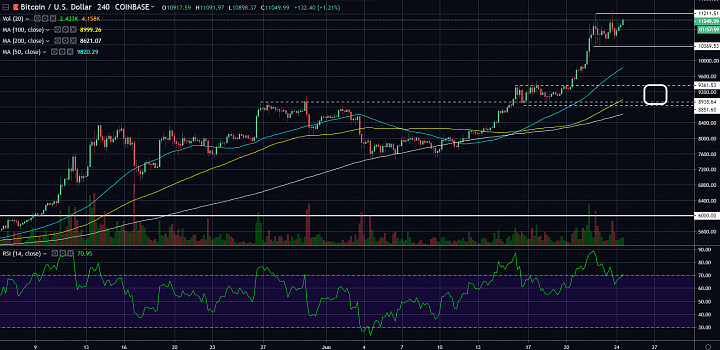 Short-term support: $10,400: A break below this could send price down towards the $9400 area, which is the resistance area of the previous consolidation. There is a chance price will return to this $9000-$9400 area before another round of consolidation.
Short-term resistance: $11,200: A break should send price towards at least the $12,000, where we might anticipate some resistance, but can't count on it.
From CoinPowR