S&P500 Treating the 200-day SMA as Resistance is a Bearish Sign
We had over a month of stock market recovery, since the end of December. For example, the S&P500 rallied from around 2352 to almost 2740 this week.
S&P500 Daily Chart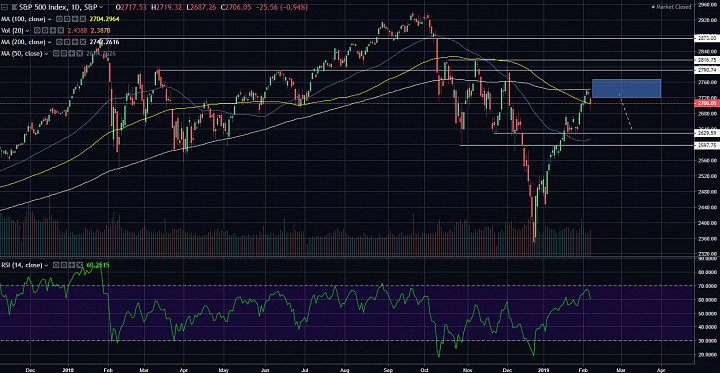 (click to enlarge)
Conflicting Signals:
- The rally since late December was impressive. The V-shape nature of this rally suggests bullish reversal, which in turn could be a signal for bullish continuation.
- Also, the fact that the RSI pushed above 60 suggests that the bearish momentum from late 2018 is over.
- However, price is still under the previous key resistance pivot around 2790.
- Price is also under the 200-day simple moving average.
- These are bearish signs.
- Therefore we have price action with contrasting signals.
- I think ultimately, the overall price structure is still bearish. The V-shape reversal could simply be a result of the volatily around the turn of the year. I think a break above 2800 would still be needed to break the bearish structure.
- I think in the short-term, price will stabilize, or stall sideways. In this scenario, there is downside towards support around 2595 up to 2630.
- If price clears below 2590, then I think previous low around 2360 will be in sight again.