Macy's (M) Struggling to Recover after Weak Holiday Sales
Retailers like Macy's did not fare well this holiday season.
Macy's Inc. said it will slash more than 10,000 jobs and detailed plans to close dozens of stores after another holiday season of weak sales, providing more evidence that department stores have lost their once-central place in American retailing...

...Macy's said its sales declined 2.1% on a comparable store basis in November and December from a year ago. Assuming business doesn't pick up considerably in January, it would mark the eighth consecutive quarter that Macy's sales have declined on that basis. Macy's lowered its per-share earnings goal for the current fiscal year, which ends Jan. 28, to a range of $2.95 to $3.10 from a previous estimate of $3.15 to $3.40.

Terry Lundgren, who is preparing to step aside as Macy's CEO this year, said he expects 2017 sales to decline at a similar rate to the company's holiday performance. The company has ramped up its digital efforts and Mr. Lundgren said the company's online sales were strong this holiday, but Macy's continues to "experience declining traffic in our stores where the majority of our business is still transacted." (Full Article on www.wjs.com)
Shares of Macy's (M) have been in a consolidation mode throughout 2016 after a sharply bearish second half of 2015. Let's take a look at the daily chart.

Macy's (M) Daily Chart 1/5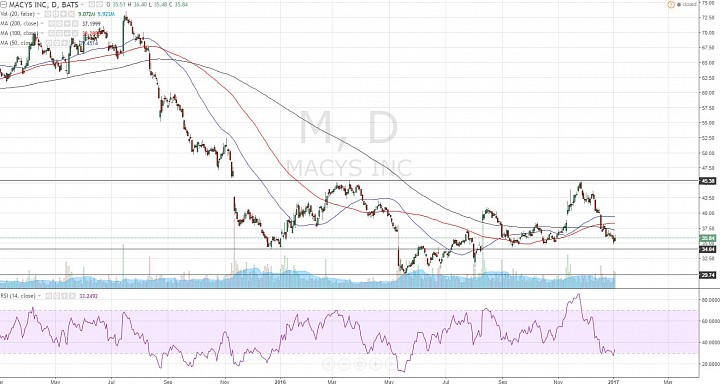 (click to enlarge)

A Head and Shoulders?
- As we can see in the daily chart the bearish trend of 2015 has flattened in 2016.
- The structure is either a sideways consolidation OR it could be a developing head and shoulders pattern with neckline just above 45 and the shoulders around 34. 
- As shares of Macy's sell down to 34, it would be interesting to see if the market supports price here.
- If we see the RSI and price eventually form a bullish divergence when price dips to 34, it might be worth considering a technical swing up towards 40. 

Conservative Bullish Outlook:
- The fundamentals and simple eye test suggests Macy's is in a tough position so we should have conservative bullish outlook when the market starts buying.
- Buying on 34 is anticipating a possible head and shoulders, but capping at 40 is anticipating a failure to actually complete a head and shoulders - I am hedging my opinion here. 

Conventional Range Play:
- A more conservative way to play this range is to wait to buy at 30, or sell at 45. 
- This strategy might miss a lot of trades, but will offer the best reward to risk.