Alibaba (BABA) Retreating after Breakout; $164-$170 Will be Key Support
It should not surprise you that some Chinese names are getting hit relatively harder after a shaky start to trade talks with China. Alibaba $BABA for example went 180, going from a bullish breakout to a bearish breakout.
BABA Daily Chart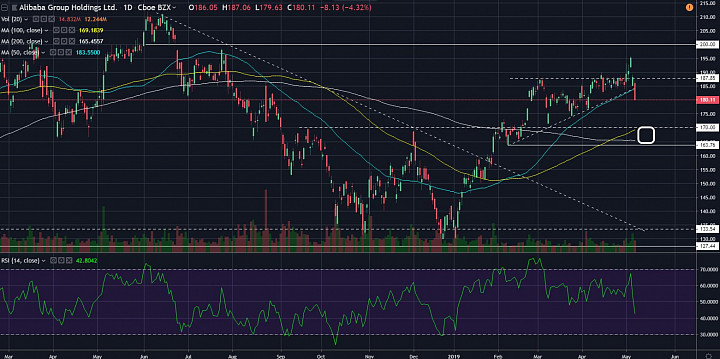 (click to enlarge)
Pullback
- Since February, price was forming an ascending triangle.
- Last week, price broke and closed above this triangle by the close of Friday (5/3)
- However, price retreated sharply this week, and broke below the triangle.
- I think the short-term we will see some further downside.
Double Bottom:
- Note that there was a large double bottom at the end of 2018 into January 2019. Price broke above this pattern by February.
- If price returns to the $164-$170 area, it would be testing the upper part of the price bottom. Holding this support here maintains upside towards $200-$210 on the next bull wave.
- A hold above this area would confirm the price bottom. Below $160, we might be looking at a return to the lows around $130.
BABA Weekly Chart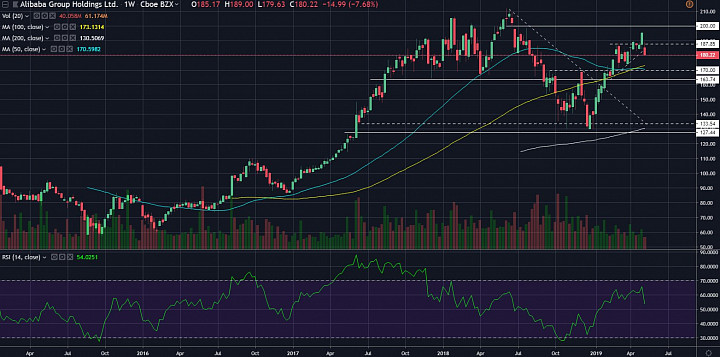 (click to enlarge)