Under Armour (UA) to go through some pain before more growth
I think Under Armour is a good brand in the long-term, but in the short to medium-term, it is still dealing with some leadership shakeup and a year where its endorsers have been under-performed when it mattered.

I am talking specifically about Stephen Curry (signed by UA) sniffled by Lebron James and the Cavs as Cleveland won its first sports championship since the 1964 Browns. But its been more than just Steph.
Under Armour's Biggest Athletes Are Having a Heartbreaking Year (TheStreet.com)
Can Under Armour Handle its Management Shakeup? (TheStreet.com)

Looking at the weekly chart, we can see that UA is indeed in a period of "distribution" or correction.

UA Weekly Chart 6/20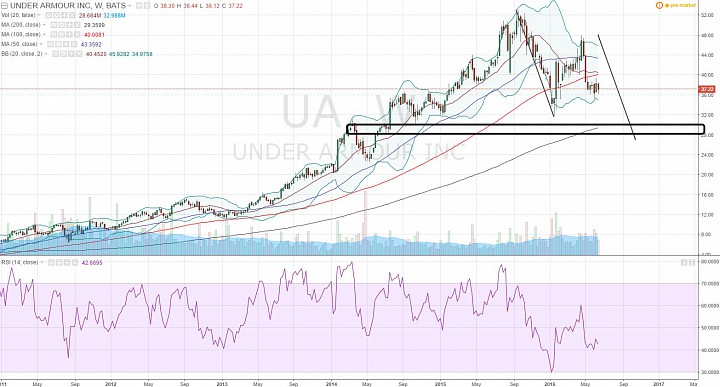 (click to enlarge) 
Bearish Price Action Suggests Further Downside: Just be looking at price action, we can see that bears dominate UA's price action recently. Also, the RSI held under 60 after it tagged 30, which shows development of bearish momentum. This momentum can carry UA down another swing to at least test the 32.00 support pivot. 

28-30 Could be Support: I think the 32.00 pivot is vulnerable if price does get there, and the 28-30 area is likely where UA will be able to establish a base. Here price will meet the 200-week simple moving average (SMA). It's also a general pivot area. Furthermore, the weekly RSI would like be around 30 again, which would suggest oversold condition.