Market Fades Check Point (CHKP) after Q1 Earnings
Check Point (CHKP) has been one of my favorite names in one of my favorite industry (cybersecurity). I have scaled out most of my long positions as it continued into fresh highs and as I see more risk of a correction. Today, that pullback came, following the Q1 earnings report, which essentially met expectations.
Here were the estimates according to seekingalpha.com:
Check Point Software Technologies (NASDAQ:CHKP) is scheduled to announce Q1 earnings results on Thursday, April 18th, before market open.
The consensus EPS Estimate is $1.31 (+0.8% Y/Y) and the consensus Revenue Estimate is $471.16M (+4.2% Y/Y).
Over the last 2 years, CHKP has beaten EPS estimates 100% of the time and has beaten revenue estimates 75% of the time.
Over the last 3 months, EPS estimates have seen 2 upward revisions and 25 downward. Revenue estimates have seen 13 upward revisions and 9 downward.
Here were the official results reported during the 4/18 session, sourced from globeNewswire.com:
Total Revenue: $472 million, a 4 percent increase year over year
Deferred Revenues: $1,312 million, a 13 percent increase year over year
GAAP Operating Income: $206 million, representing 44 percent of revenues
Non-GAAP Operating Income: $235 million, representing 50 percent of revenues
GAAP EPS: $1.15, Non-GAAP EPS: $1.32
We can see that the revenue hit estimate ($472M vs. $471.16M) , and earnings barely missed ($1.31 vs. $1.32). with the prevailing trend sharply bullish, the market would have needed to see an earnings beat to sustain the rally. Instead, it looks like a day of profit-taking.
CHKP Daily Chart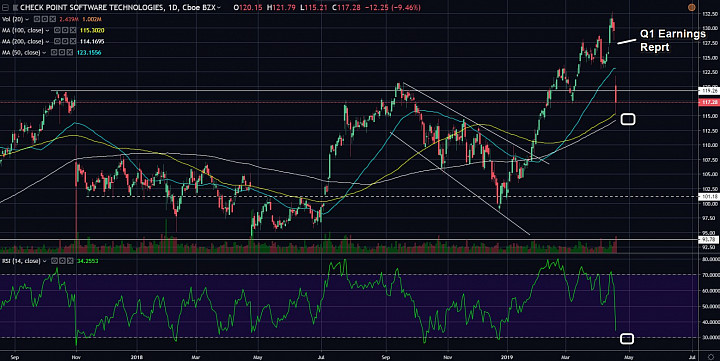 (click to enlarge)
Buy the Dip?
- I have already started to scale in around $118, and plan to add more if price falls to $114, $110.
- The 200-day simple moving average (SMA) is around $115, and I think price will become stick around this area in the coming weeks.
- I don't think the earnings report was bad, and I think this bearish reaction is not a start of a bearish trend, but rather a period of consolidation/correction.
- We might see price stuck here under $120 for a couple of months. It would not be a surprise after seeing a 4-month rally from just under $100 to $132.