Netflix (NFLX) - Anticipating Support Around 230
Netflix $NFLX retreated from a high of $286.80 in January. It should be noted that it started the year just under $200 per share. We can anticipate a relatively sharp retracement after such a sharp rally. An aggressive bearish correction outlook could be to wait for price to dip to $200 before considering a buy.

But we might want to also anticipate support around $230.
NFLX Daily Chart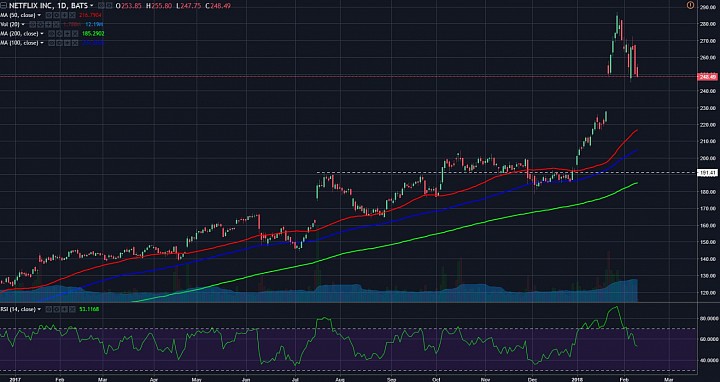 (click to enlarge)
Bullish Price Gap:
- On the daily chart, we can see that price jumped from under 230 to 250 in January. This was part of that rocket launch from 200 to 286.
- As price retreats, it is going to start filling this gap.
- I think we should anticipate support as price approaches 230.
- Note that if the RSI turns back up before breaking 40, we would be looking at continuing bullish momentum. So let's look for this convergence: price @ $230 and RSI @ 40.
- Then, let's see what happens on a bullish attempt. If price fails to push above 250, NFLX could be in a longer, more significant consolidation/correction. In this scenario (where price gets rejected at 250, we might look consider having some dry powder for NFLX @ $200.