US NFP Report and USD Reaction
Today's Non-Farm Payroll Report showed that 252K jobs were added in December, a drop-off from the 353K reading for November. It was better than the average forecast around 241K, but still within the range of forecasts. 

The unemployment rate fell to 5.6% from 5.8%, but this can be attributed to a drop in labor participation rate, which fell to a 33 year low at 62.7% (ince Dec. 1977). In that respect, the jobs data was subdued. 
Furthermore, average hourly earnings fell at -0.2% in December. This was the first negative reading for this data since July 2013. The FOMC wants to see wage growth before it raises rates, and December's reading disappointed in that respect. 

Despite the seemingly better than expected NFP and unemployment headline readings, the overall picture is mixed, and perhaps even a bit disappointing. still we saw a rally in the USDX.

USDX 1H Chart 1/9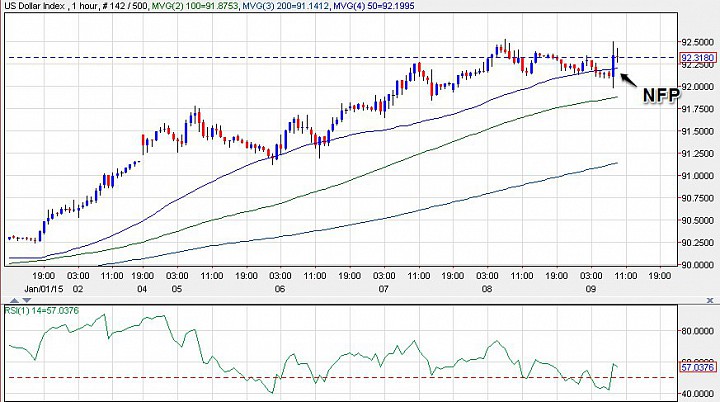 (click to enlarge)
The USDX was stalling below 92.50 ahead of the NFP. After the data point, it rebounded from 92 and is threatening 92.50 again. The technical picture remains bullish based on the moving averages, price action, and the 1H RSI reading. Today's NFP, although not very impressive, was not gloomy. The USD can continue to rally on momentum. However, if price fails to close above 92.50, and we see an upcoming global session close below 92.00, we would have likely see a short to medium-term consolidation or bearish correction in the USD.