The Rounded Tops of some Bank Stocks (MS, GS, JPM)
We recently took a look at the "topping" price action in Morgan Stanley's (MS) shares.
Let's take another look at the $MS price top as well as similar price action in Goldman Sachs $GS and JP Morgan $JPM.
MS Daily Chart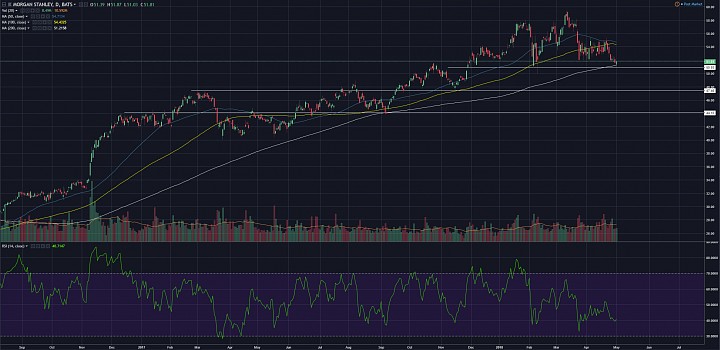 (click to enlarge)
- As we can see price is right at the key support at $51.
- So far, during the 5/1 session, the market respected this support.
- But I think there is still a lot of pressure here. Inability to push back above $53 would likely help bears break below $51.
- The bearish scenario goes against the prevailing uptrend, so we will be conservative.
- We should anticipate support at $47.50, and $44.
GS Daily Chart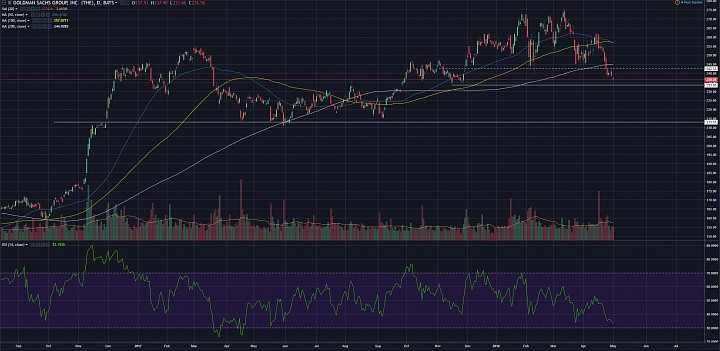 (click to enlarge)
- Goldman Sachs has a slightly more developed price top because price has broken below the moving average cluster as well as a key support at $252.50.
- Price is now challenging a support/resistance pivot around $233.50.
- A break below $233.50 would open up the key support at $213. For now, we should keep our bearish outlook limited to this support.
JPM Daily Chart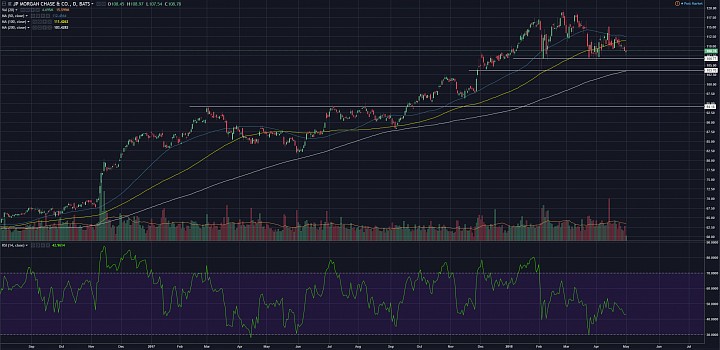 (click to enlarge)
- JPM's price top is a little less developed than that of MS.
- Note that price is still above the 200-day simple moving average (SMA).
- Price has also held above the key neckline support at $106.75.
- A hold above $106.75 would suggest that the consolidation is still sideways, instead of the bearish correction type.
- A break below $106.75 opens up some bearish outlook, but the 103.70 will be important, as it is reinforced by the 200-day SMA.
- Below 103.70, we should then limit the bearish outlook to the $94.15-$95.00 area.