Amazon (AMZN) - Lower High and Low vs. Bullish Price Structure
Amazon $AMZN is trading at the crossroad. The overall price structure still remains bullish, but it made a lower high and lower low recently, which could be the start of a bearish swing or correction.
AMZN Daily Chart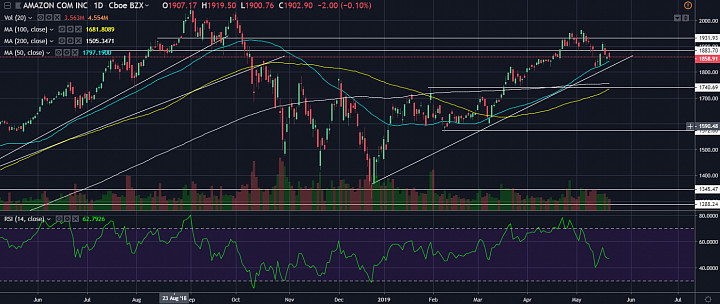 (click to enlarge)
Bulls Taking a Break?
- After the bearish correction from September 2018 to December 2018, Amazon appears to have gotten back on its bullish trend.
- However, price did not go back to the 2018 high, but fell short of it. This means, AMZN could be in a significant sideways consolidation.
- The other likely scenario is that it is already back on a bullish trend.
- Either way, the current price action is slightly bearish AMZN made a lower low, and now a lower high.
- Still we can see that price is above the 200-day simple moving average (SMA), and above a rising trendline.
- Meanwhile, the RSI is still holding above 40, which reflects maintenance of the prevailing bullish momentum.
Support:
- The current support is around $1820. But I would not be surprised if the correction extends lower, to $1740.
- I think if price holds above $1740, we are still looking at a bullish market, with upside at least to the 2018 and all-time-high around $2050.
- Below $1740, we might want to give AMAZN some elbow space to $1700.
- Below that, the $1570-$1600 area would be the next key support. I don't think price will fall below this area if AMZN is simply in consolidation.
My Trade Management:
- I am in a decent position size in AMZN with a cost basis just above $1600. I would not mind adding a small position at $1740, but would want some dry powder to load up again if price retreats to $1600.
- I wish I loaded up here a lot more when $1600 continued to show support through February and into March.
- But I was not confident of the upside and had dry powder waiting around $1300. The break above $1800 suggested to me that AMZN was in bullish continuation mode.
- Thus, I no longer have dry powder waiting at the $1300 area as I did in early 2019. I think AMZN has left the station and will be bullish in the upcoming years with upside above $2050.