Carbon Black (CBLK) Surges, $20 and $15.00 are Key Levels Now
In 2018, after a rollercoaster IPO, Carbon Black $CBLK started to fall persistently until share price tagged $12.00. After holding above $12 several times, Carbon Black has been on a tear since mid-April and tagged $19.00 during the 5/14 session.
CBLK Daily Chart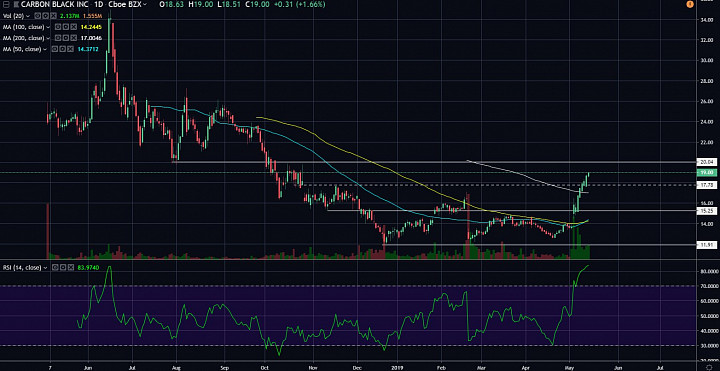 (click to enlarge)
Accumulation:
- We can say that price action since late 2018 was that of accumulation - a sideways price bottom.
- In May however, price surged and broke key resistance levels, completing a price bottom.
Resistance:
- While this bullish breakout could be a sign of things to come, I think the market will be cautious and fade CBLK as it approaches the $20 pivot and psychological level.
- I think this is a key resistance and a break above it would be another strong bullish sign.
Support:
- Now, if price pulls back from $20 it doesn't mean CBLK is back in bearish mode. It is still in a neutral-bullish mode after the multi-month accumulation.
- If price holds above the $15-$15.25 pivot area, I think we can say that the market respects the price bottom.
- In such a scenario, a subsequent test of $20 will have a stronger chance of breaking higher.