GBP/USD - Double Bottom Attempt
The GBP/USD has been bearish in December, but flattened out to end the year. It is now forming what looks like a double bottom.

GBP/USD 4H Chart 1/5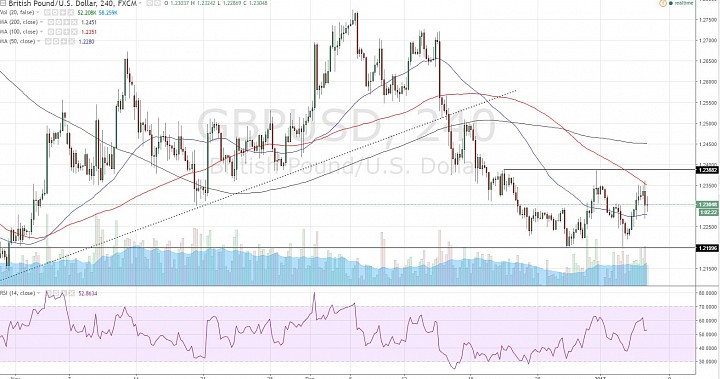 (click to enlarge)

Double Bottom:
- The market bound GBP/USD at 1.22 and kept it from falling under this handle.
- There is a common resistance in the 1.2385-1.24 area.
- A break above 1.24 would complete the double bottom and open up a bullish outlook.
- However, the 4H chart is not bullish but sideways. Therefore, the bullish outlook would be tempered. 1.25-1.2550 area for example seems like a place where the market will sell if it believes GBP/USD is not bullish. 
- What about the daily chart?

GBP/USD Daily Chart 1/5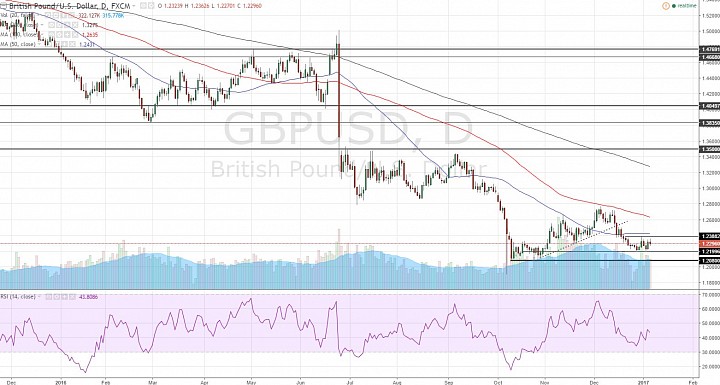 (click to enlarge)
Neutral-Bearish:
- The daily chart shows a market that has been consolidating since October after price dipped below 1.20 briefly (after Brexit). 
- The thing is, price remained under the support of a previous consolidation range. 
- Furthermore price is under the 200-, 100-, and 50-day simple moving averages. 
- At best the market is neutral. But there seems to be a lot of bearish bias. 
Considering a General Trade Plan:
- It looks like if we play the double bottom, it would have to be a very short-term bullish outlook. 
- OR, we can wait to see if price can come back to 1.25-1.2550, or even 1.26 before considering selling into the longer-term bearish trend.