Gold (XAU/USD) Sliding Sharply: $1275-$1280 and $1235-$1245 are Key Support Areas
Gold $XAUUSD has finally stopped its rally since August from $1160 to $1346 in February. It slide back below $1300 last week, and is starting this week with more downside as well. Let's take a look at the daily chart.
Gold Daily Chart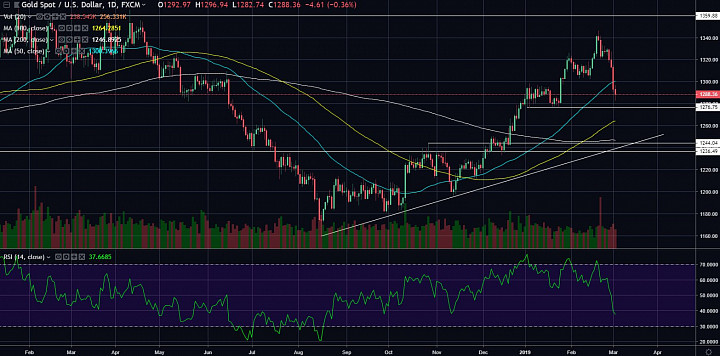 (click to enlarge)
Correction Mode:
- Just be looking at the chart, the current pull back is the strongest one since gold price bounced off $1160.
- I think this is indeed going to take some more time to develop with more price downside compared to the other periods of consolidation since August.
Support:
- During this consolidation/correction phase, we should monitor the 1275-1280 area for support. This is the 2019 low and also the January consolidation support area.
- Below that, the next support will be critical - around $1235-$1245.
- This is around the 200-day simple moving average (SMA), a support/resistance pivot area, and a rising trendline support.
My Tentative Trade Idea:
- I am considering a long position around $1250 with a stop below $1230 i.e. 1225. I think from 1250, there is still upside towards the current high around 1340, with a potential to extend to 1360, which was the 2018 high and a critical and common resistance.