Viacom (VIAB) Broke Out of its 2019 Resistance and Will Likely Threaten the 2018-High
Viacom $VIAB has been consolidating in 2019. There was some range-bound action in the first few months of the year between roughly $25 and $30.65.

However, price stayed above the $25 support and instead held above $28 for the most part in May. That was a subtle clue that the market was shifting from a sideways mode to a bullish one.

VIAB Daily Chart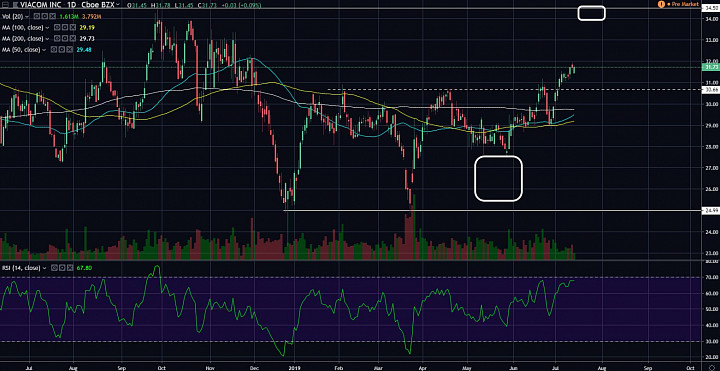 (click to enlarge)
Bullish Signs:
- Instead of falling back to range support, price challenged resistance again in late June and eventually cleared it a couple of weeks ago at the start of July.
- This bullish break came with price anchoring above $29. This is going to be a critical support level. If the current rally pulls back suddenly, $29 should hold if the medium-term trend is still bullish. Otherwise, we might see more consolidation and downside to challenge $28 and eventually the $25 area.
- However, I think the more likely scenario will be a bullish push towards the 2018-high.
Long-term Price Bottom?
- There has been some signs that the market could be bottoming after the bearish trend found support around 22.35 in late 2017.
- The subtle sign that the market could be bottoming is the fact that the 2019-low was above the 2018-low.
- However, we just have to look at the end of 2016 to see that a higher low does not always lead to a bullish breakout.
- Indeed, we will need to see a clear break above $34.50, and maybe even $36 before considering a completed price bottom and a subsequent bullish reversal.
- This area around $35-$36 is a key support/resistance pivot area and will be guarded by the 200-week simple moving average (SMA).
- A break above $36 would therefore be a strong bullish signal for upside to $40, and then the 2016-2017 highs around $46-$47.
VIAB Weekly Chart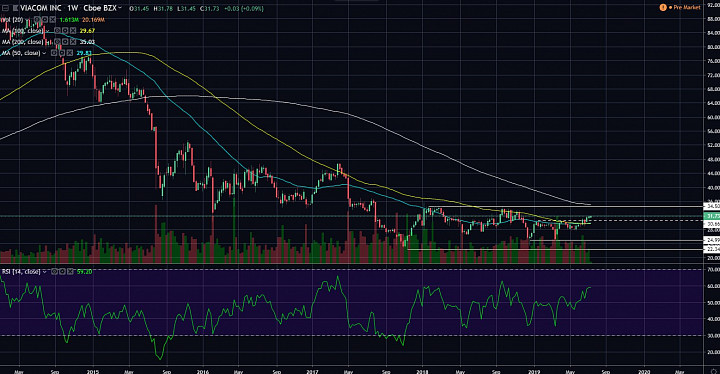 (click to enlarge)
It should be noted that this rally is on the heels of a possible acquisition by $CBS. This potential acquisition could drive price above the key resistance. However, if a deal does not materialize, we will likely see VIAB in further consolidation under the 2018-high around $34.50-$35.
Here's a report from MarketsInsider.com:

Viacom climbs amid reports merger talks with CBS are heating up (VIAB) - June 19
Viacom shares rose as much as 4% on a report from the Wall Street Journal that CBS is planning to make an offer for the media company.
This would be the third time in four years the media giants have come to the table for merger talks.
Viacom's has historically underperformed its peers like CBS and Disney.
A merger between CBS and Viacom could finally happen, and Wall Street seems happy about it.
According to the Wall Street Journal, CBS is planning on making an offer for its sister company, Viacom, in the coming weeks. Shares are Viacom rose as much as 4% on the news.
The deal still faces some challenges such as determining how much CBS is willing to pay per share of Viacom, and who will fill the ranks of the combined company's management team. CBS rose about 1%.
The merger between the two media giants has been proposed several times in the last few years by Shari Redstone, the president of National Amusement, which is a majority shareholder in both CBS and Viacom. The deal has renewed interest over the last few months.
Last week, CNBC reported that merger talks were expected to "get serious" after CBS's board discussed the deal during a meeting last Friday.
Viacom, the owner of Nickelodeon, has underperformed CBS and other competitors such as Disney as a result of cord-cutting and lower ratings for its major networks.
Viacom is up about 19% this year.