Ford (F) Likely to Make Another Higher High, But I am Anticipating Resistance Around $11.00-$11.50
Ford $F has been making quite a recovery since the end of 2018 when price fell to a low around $7.50. It is now trading above $10, and I think it can push above the May/June high of $10.50.
Ford Daily Chart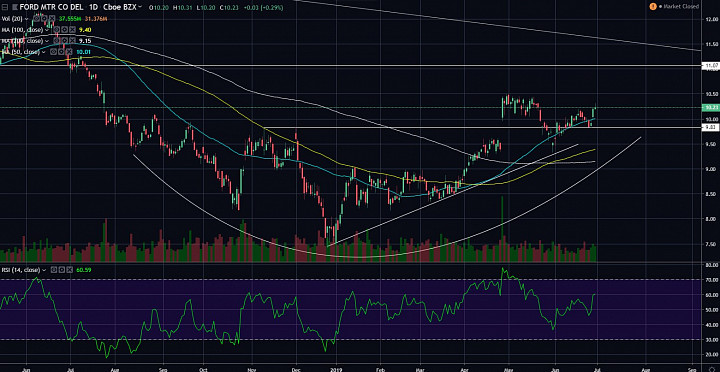 (click to enlarge)
Rounded Bottom?
- The price action since late 2018 until now does look like a rounded bottom.
- Price has rallied above the cluster of moving averages, most importantly the 200-day SMA.
- The RSI has held above 40 for the most part after pushing above 70 in April. This reflects maintenance of the prevailing bullish momentum generated in early 2019.
- Price action further confirmed upside when it treated the moving average cluster as support.
- Last week, price also treated a previous resistance pivot at $9.80 as support.
- These are signs that suggest a continuation of the uptrend, and thus a higher high above the current resistance of $10.50.
Resistance:
- While the short to medium-term trend has been bullish, I think the rally will be going up against strong resistance around the $11-$11.50 area.
- In the long-term, or at least since 2014, price has been bearish, falling from heights of almost $18 per share.
- Because of this prevailing downtrend, I would respect the resistance seen in the $11-$11.50 area.
- This involves the 200-week SMA, a falling trendline, and a previous support pivot that could turn into resistance.
- If price action shows that it won't come back to the 2018/2019 lows again, and anchor above at least $9.00 (preferably $10.00), then I would be more confident of a bullish recovery that can break above the above-noted resistance factors.
- Again, for now, I think we can anticipate more short-term upside, but should also respect the $11-$11.50 resistance based on the long-term bearish trend since 2014.
Ford Weekly Chart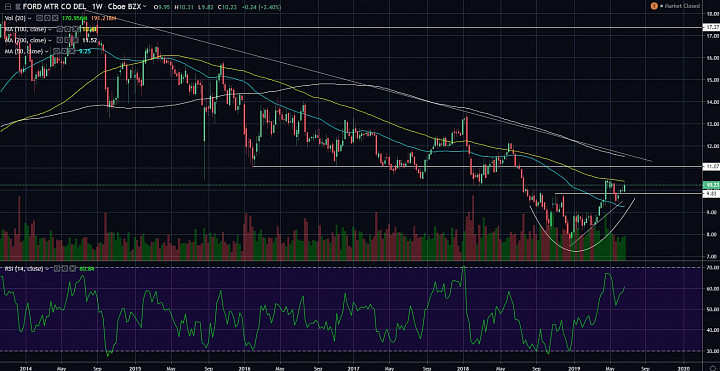 (click to enlarge)