Chipotle (CMG) completing a double bottom
Chipotle (CMG) has been bearish heading into 2016 due to several cases of e.coli and other food-bourne illness in the restaurant. So far this year, price action continued to be bearish but has also flattened out a bit as we can see in the daily chart. 
CMG Daily Chart 9/8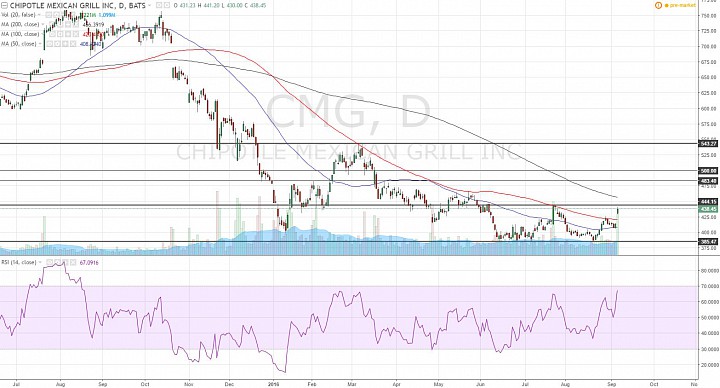 (click to enlarge)
Lower lows, lower highs:
- There was a low at 400 at the beginning of the year, but price pushed lower in June to 385.50.
- After an ABC correction from January to March, we saw price highs falling lower and lower into July.
Double top:
- The lower lows and lower highs scenario is about to break.
- Price threatened 385.50 again in August, but bounced up from this previous low. 
- Now, price is almost back at the July high and resistance pivot of 444.15. 
- Essentially, price action flattened and formed a double bottom.
Upside:
- If we respect the prevailing downtrend and momentum, we should limit the bullish outlook coming out of the potential double bottom.
- There is a pivot at 483, and we can use this as a conservative target. 
- A slightly more aggressive target is the psychological level of 500. 
- Again, because of the established bearish mode, we should probably not expect price to return to 543. Now if it does, we should monitor for a break above 550, because that would mean CMG has turned the corner. 
Bill Ackman has a role in the latest rally. Here's an article that has a bearish bias despite and even due to the activist investor's involvement: Chipotle: Now we Know