Tesla Inc. (TSLA) Tags $200 after Sharp Slide; $178 is Key Support For Now
When Tesla $TSLA fell below a common support at $245, I noted that there would be downside to $200.
Tesla Inc. (TSLA) Finally Completes Price Top; $200 In Sight
The trifecta of general risk aversion, the broken technical support, and continuing negative press pulled TSLA sharply towards $200, which was hit during the 5/20 session.
Tesla in 'Code Red Situation' as Sell-Off Exceeds 20%
TSLA Weekly Chart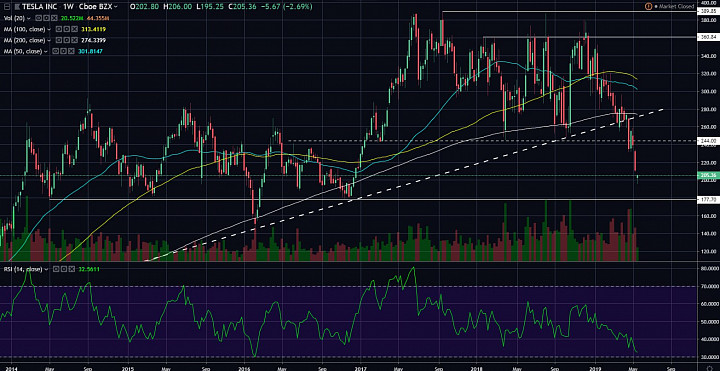 (click to enlarge)
Support:
- There were some support here at $200, a psychological level.
- However, the $175-$180 area would be a more likely support as it was a common support from 2014 through 2016.
- Even then, it will be tough to call a bullish target. We might see a period of consolidation, but the outlook is still bearish outside of a dead-cat-bounce.
- I would anticipate continuing downside, or at least a long period of sideways consolidation without much upside, maybe around $200.
- Tesla will need some significant structural changes before any support can be reliable.