AUD/USD Maintains Bearish Structure
Last time we looked at $AUDUSD, we saw that it broke below a key support and was moving towards the next one around 0.6825.
AUD/USD Falls to Key Support Around 0.6825
However, price didn't get there before rebounding to $0.70.
AUD/USD Daily Chart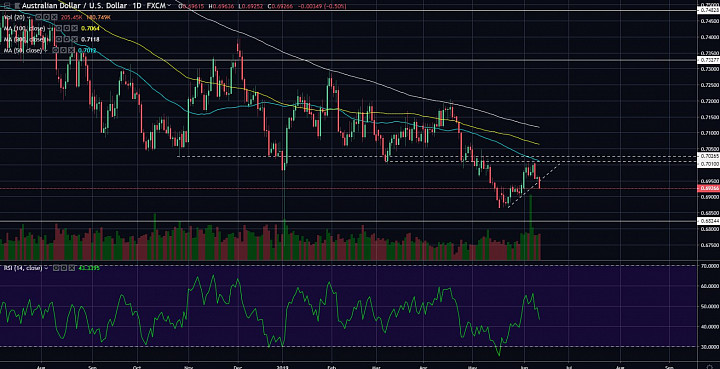 (click to enlarge)
Bears Still in Charge:
- After this rally, price retreated from 0.70.
- Price action this week has so far been bearish with price falling below a support around 0.6950 and a recent rising trendline.
- Meanwhile, price held under the cluster of moving averages and the RSI turned down under 60.
- These are all signs that bears are still in charge.
- The 0.6825 area might still be in sight, but I suspect AUD/USD will find support around there.

Interest Rate Spread:
- The RBA has been dovish and has cut the cash rate to a historic rate of 1.25%.
- Meanwhile, the Fed is also starting to look dovish and rate cut expectations are rising.
- The thing is RBA has pulled the trigger while the Fed has been steady in 2019.
- But I suspect as price approaches 0.6825, rate cut expectations could creep into the pricing of AUD/USD and it might find support and rebound as it did in May.
A Fed Rate Cut Looks More Likely. The Question Is When and by How Much (Bloomberg 6/9)
RBA slashes cash rate to all-time low of 1.25 per cent (news.com.au 6/4)