USD/CHF - Inverse Head and Shoulders in a Continuation Application
USD/CHF has been choppy since August falling from around 0.99 to about 0.9255 before rebounding sharply and then trading choppily as we can see in the 4H chart. 

USD/CHF 4H Chart 10/6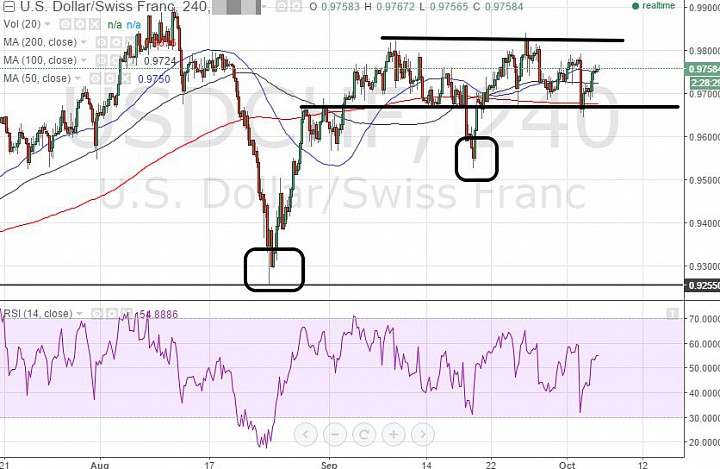 (click to enlarge)

The 4H chart shows that price action since September can  be categorized as an inverted head and shoulders. Now we traditionally look at this type of pattern at the end of a decline. In this case, it is forming after the V-Shape rally in August into September. Remember, one of the applications of an inverted head and shoulder is a bullish continuation pattern, and we could be witnessing such a case. 

If you are like me and believe that price action in the 4H chart points to a bullish bias, in the medium-term, we might want to buy on a dip in the short-term. The 0.9650-0.97 area is a candidate for support in this inverted head and shoulder pattern. There is potential upside risk back towards the 0.99 handle.

But if you are bearish, take note of the bullish price action, and be cautious if you want to sell from just above 0.98 - the neckline. You would also limit any bearish outlook to the 0.9650-0.97 area.