AUD/USD Rebounds after a Crazy AUS Jobs Report
The Australian Bureau of Statistics just gave us an astronomical print for the August employment change data for August. 
Official Employment Report
There was an astonishing 121K jobs added in August, improving on the -4.1K print in July, and overshadowing the 15.2K average forecast.
The unemployment rate fell to 6.1% from 6.4% supported by a rise in participation rate to 65.2% from 64.9%.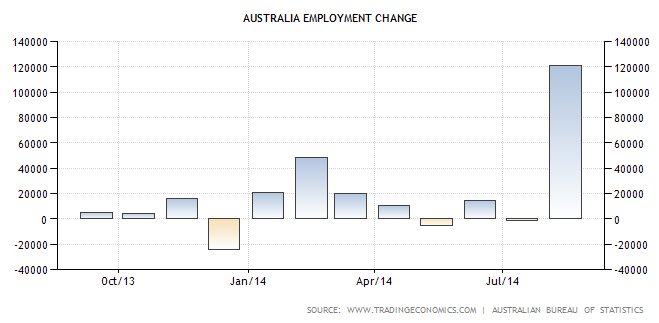 (source: tradingeconomics.com)
Here's the thing - the report showed that full-time jobs rose 14.3K while part-time jobs surged by 106.7K. The statistics bureau explained that this lopsided gain in part-time jobs has to do with a change in survey group. Plus, the RBA will need to see more sustained growth to consider a rate hike. Still, today's jobs report can push the RBA towards that direction, but just not as far as the headline number would suggest. 
The AUD/USD fell from 0.94 to 0.9113 this week. The sharp decline broke below a key support at 0.92 and opened up a bearish outlook. Today's impressive jobs data helped AUD/USD rally back above 0.92, where we are currently seeing sellers. Now, after the dust settles if AUD/USD can stay below 0.93, there is still a bearish outlook. Maybe it won't be as sharp as the first half of this week, but the bullish outlook should remain shelved for now.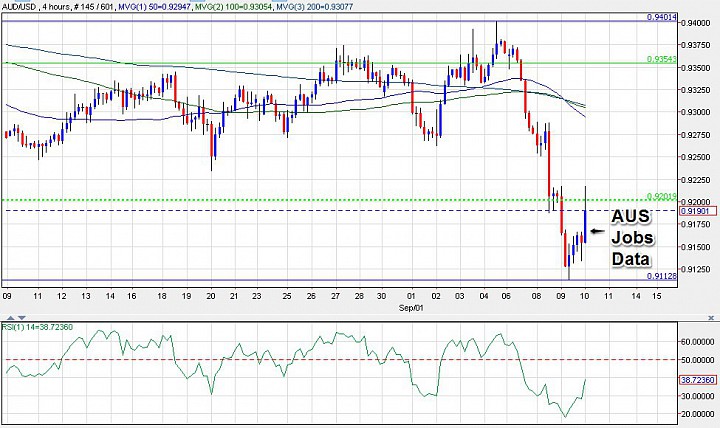 (AUD/USD 4H chart 9/11)
When we look at the daily chart, we can see that the break below a multi-month consolidation support should open up the 0.8980-0.90 area, which contains the 61.8% retracement and the psychologically sticky 0.90 handle. 
Today's jobs report might make that bearish outlook a little harder to achieve, but the 50% retracement at 0.9083 should very likely be achievable if price can hold below 0.93 where the cluster of moving averages are in the 4H chart. If the 4H RSI holds below 60, it would also build the case for further downside, even if it is just a little lower then this week's 0.9113 low.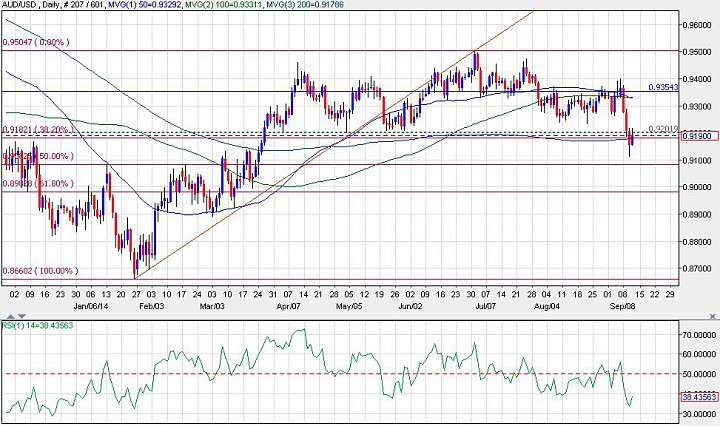 (AUD/USD Daily Chart 9/11)