Overstock (OSTK) - The Case for $5.00 or Lower
Overstock $OSTK if it ever recovers will be a while. Meanwhile, there is still a lot of downside even after a whopping 85% drawdown from the $89.80 per share peak at the start of the year. The market devalued it another 20+% on Monday (12/17). While we might see some psychological support around $10, I think this is a name to avoid.
1) Amazon $AMZN is killing Overstock. Amazon is low margin high volume, so Overstock would have to compete in quality. In my opinion it does not differentiate enough, and has less than 1% of Amazon's revenue. Meanwhile growth prospect is dim.
2) CEO Patrick Byrne has been selling OSTK, signaling lost of confidence in OSTK while gaining conviction for a passion project in tZERO, a subsidiary of OSTK. tZERO is being built to service the securities token industry, which is at its infancy stage. It was brought on by the cryptocurrency/blockchain industry with legal framework still being flushed out. Furthermore, it should be noted that tZERO is just one of many projects building out the infrastructure for security token offerings.
With that said, I think OSTK is going down to its all-time-lows under $5.00 a share.
OSTK Weekly Chart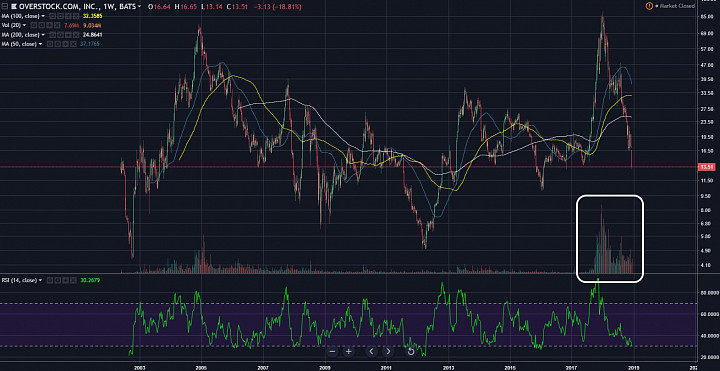 (click to enlarge)
Market Capitulation:
- The strong volume after the market started selling in January suggests capitulation.
- Again, we might see some support as price approaches $10/share, but I think the upside will be limited to $14, a common support area in 2016 and 2017, which could turn into resistance.