TAN - Buy on a Dip
Guggenheim Solar ETF (TAN) has been essentially in consolidation/bearish correction mode since 2014 as we can see in the daily chart.

TAN daily Chart 12/28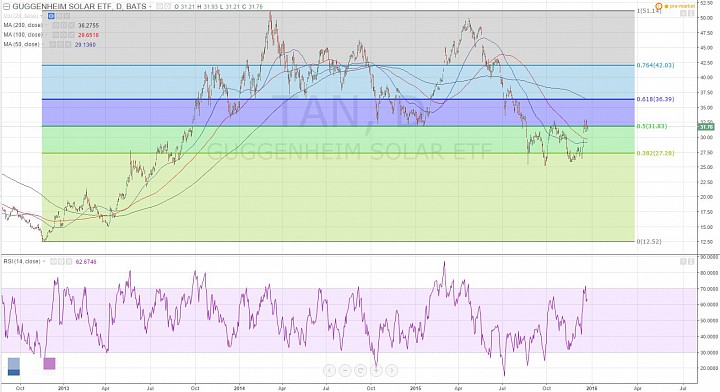 (click to enlarge)

Complete Correction:
As we can see in the daily chart, TAN has undergone a period of consolidation. It has completed an ABC correction, and has landed on the 61.8% fibonacci retracement level before consolidating in Q4 of 2015. As we end the year, price is rebounding, and is showing a possible bottom. The RSI has tagged 70, which shows initiation of bullish momentum.
Buy on a Dip:
There was a bullish gap during a push in mid-December that jumped over the 30 handle. I think if price falls back towards 29-30, TAN can be considered a buy. Also, price has crossed over the 50- and 100-day simple moving averages (SMAs), making them possible support. If the RSI is back between 40 and 50, it should also turn up if the market is indeed turning bullish.

Risk and Reward:
There is downside risk towards 26 if the market is not ready to rally from the price bottom. A break below 25 would likely introduce further downside risk. So, let's say there is a stop at 24.50. If entry is at 30. That is a -5.50/30 or -18.3% risk. A conservative target of 36 provides a 6/30, or 20% reward, and a target of 40, is 33%. If TAN stays in an overall consolidation mode, the buy does not have a great reward to risk profile. But, if you believe solar will have a strong 2016, 50 is a possible target for 2016, which would lead to a 20/30 or 66% gain.