I Like Intel (INTC) Around $49-$50 After the Earnings Reaction
Last week, we saw Intel Corp. $INTC plunge after posting Q1 earnings. While Q1 earnings beat estimates, it pulled back on its guidance for Q2 and the year. The market's reaction was obviously to the weak forward guidance and the assessment that Intel's market share is vulnerable.
Intel (INTC) Beats on Q1 Earnings & Revenues Top, View Tepid (Zacks)
Intel Earnings Are Not What They Seem To Be (Seeking Alpha)
Let's take a look at the reaction and why I am considering picking up some INTC at $50.
INTC Daily Chart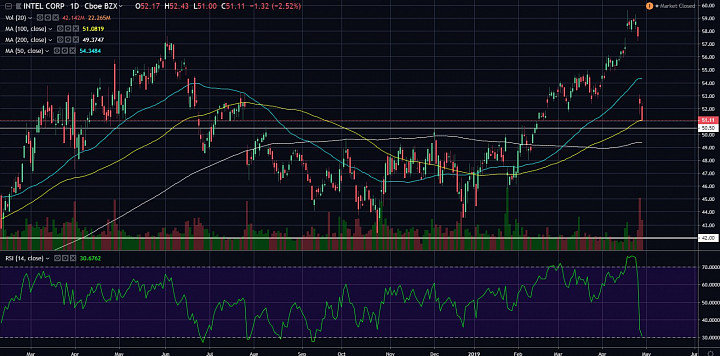 (click to enlarge)
Key Pivot:
- $50 will be a key pivot and could be a base for short-term upside.
- We have the 200-day simple moving average (SMA) around $49.
- There is also a previous resistance around here that could turn into support.
- $50 is a psychological level as well.
- However, we should temper any bullish expectation for INTC.
- I can see a 6% bounce to $53, but would limit my expectation to a 10% bounce to $55. I think there will be strong resistance at $55 if price does come up here.
- I would look for a couple months of consolidation, like we saw in Q4 2018.
More Downside:
- If price falls below $50, and starts to treat $50 as resistance, we can anticipate a dip to the next key support around 42, which was a common support, and a low in 2018.
- Another bad earnings report can send price lower, towards $37.75 or even the $33-$34 area.
- This area around $35 is also where price would meet a long-term trendline support.
- For now, I will be focusing on the $49-$50 area for support.
INTC Weekly Chart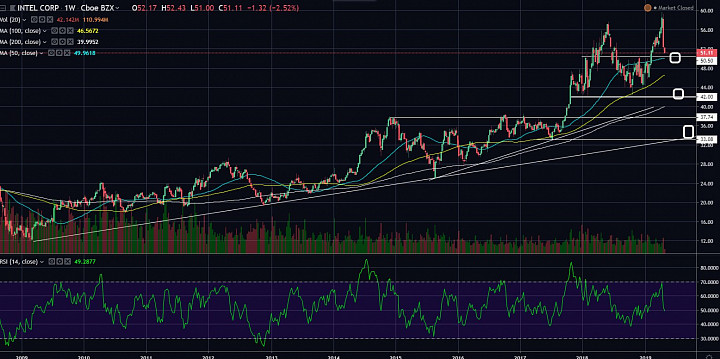 (click to enlarge)