Advanced Micro Devices (AMD) Surges After Confirming Bullish Breakout; Morgan Stanley Walks Back Bearish Call
Recently, we saw Advanced Micro Devices $AMD break above a consolidation pattern after it made an announcement about its upcoming 7nm Ryzen 3000 CPUs.
At first, it retreated before testing the 2019 high right around $30. However as we can see on the daily chart below, the pullback came down to within the bullish breakout candle and therefore showed that bulls were still in charge. The subsequent rally is a confirmation of the bullish breakout, extending above $30.
As this price action unfolds, we also get news that Morgan Stanley $MS analyst Joseph Moore is correcting his previously bearish assessment of AMD.
Morgan Stanley Says Its Bearish Call on AMD Stock Was Wrong (Barron's)
AMD Daily Chart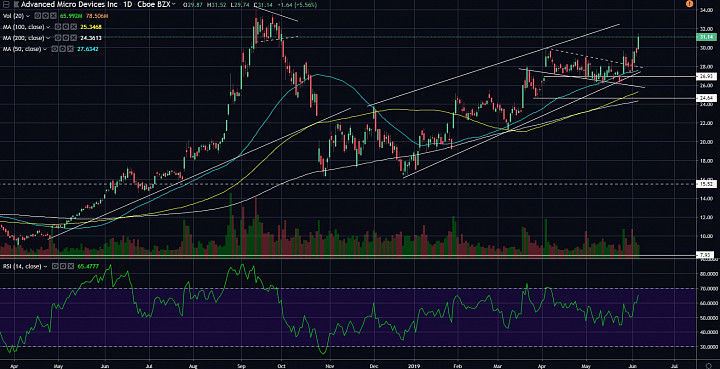 (click to enlarge)
Bullish Trend Continues:
- As we can see on the daily chart, price has been bullish after a late 2018 correction.
- After a double bottom above $16, is now almost 2x from that low.
- Price is trading above the 200-day simple moving average (SMA). The RSI has held above 40 after pushing above 70 in March.
- I think price will inevitably test the 2018-high around $34.
- We might see some consolidation around $34, but the chart so far suggests a likelihood of breaking higher eventually.