As Bitcoin (BTC/USD) Retreats, Monitor Key Support at $6000
Previously, we noted that Blockchain week NYC - in May surrounding the Consensus Expo - was a likely factor for Bitcoin's (BTC/USD) recent surge. I also shared my trade plan of exiting a significant amount of my BTC holding around $7000 and $74000.
As blockchain week wound down, BTC/USD shot up to about $8400 on Coinbase before stalling. Then, we saw price fall sharply. This was the "dump" that I was anticipating, except it happened $1000 above where I anticipated resistance.
Now as price retreats, I think we can first anticipate support at the common support of $6000.
BTC/USD Daily Chart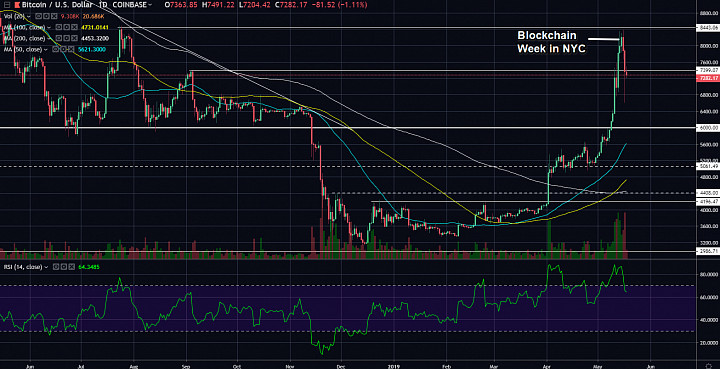 (click to enlarge)
Support for Pullback:
The rally took out the $7400 resistance but respected the $8400 resistance from July 2018.
On the way back down, an aggressively bullish market would have found support at $7400. However, it broke through, and even fell below $7000 before coming back up.
Note that this pullback is the strongest pullback we have seen since price formed a bottom above $3300.
Thus I think price will eventually pull back further below $7000 towards $6000.
Now, even if the market has shifted form a bullish trend to a period of consolidation, the $6000 level is a critical support.
When price was below $5000, I had a lot of dry powder for the $3000 mark and even lower.
But now I am looking at $6000, $5000 and $4400 as entry levels.
There's no telling if $6000 will hold. This is a very speculative market and prone to wild volatility so I think its prudent to always prepare some dry powder for wild swings.
From CoinPowR