Shake Shack Shaking it Up
Shake Shack has been in a decline since surging to its historic high around 96.75 in May this year. The daily chart shows the price action of SHAK during this IPO year.
Shake Shack (SHAK) Daily Chart 11/5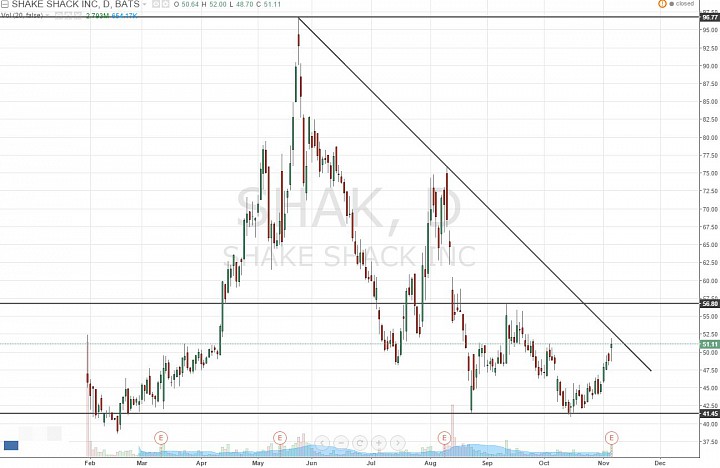 (click to enlarge)
you can see that after the first couple of months, price shot up from below 50 to 96.75 in 2 months. After this euphoric run, price has capitulated and has fallen back to the price level SHAK was around during its first couple months of being listed on the NYSE.
Take a look at the daily chart. I believe this chart represents the typical hype-capitulation price movement of many IPOs. It is now back to its initial levels and found support around 41.45, twice, forming a possible double bottom. Also, if price pushes above 52.50, it would break above a falling trendline. 
I am starting to consider a buy and hold for 2016 around 45-47.50, with a target first to 56.80, then towards 75.00. 75.00 Seems a bit aggressive at the moment. Indeed, I think now that the hype has retreated, price will stabilize around 50 for a while. Even so, 45-47.50 should be considered a bargain based on the short price history of SHAK in 2015. 

Today's rally came on the heel of better-than-expected earnings. With EPS reported at $0.12, it beat most estimates around $0.07. That shouldn't be a significant reason for buying as SHAK has beaten estimates all year. It is the technical picture that suggests SHAK could be a bargain below 50.