Starbucks (SBUX) Recovery to Meet Resistance
Starbucks $SBUX has been rebounding in July after a previous dip dragged price down to the $48.00 area. It has been edging up and is now pushing above $52. As SBUX rebounds, price will be testing a resistance area, where we should anticipate sellers because SBUX has completed a price top.
SBUX Daily Chart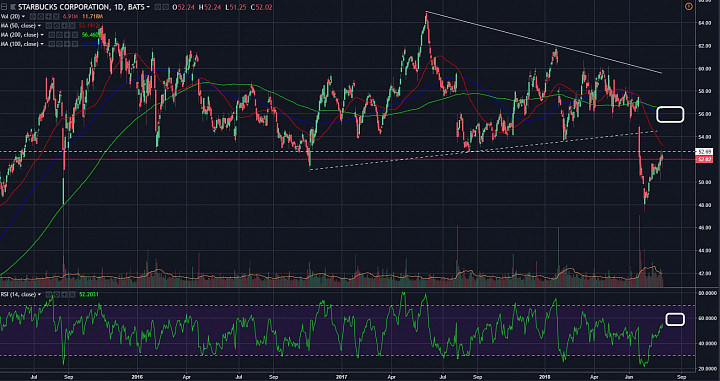 (click to enlarge)
Pullback to Price Top:
- The daily chart shows us that there was essentially a double top completed when price dipped to $48.00 a share.
- If price pulls back, the $56.00 should be the highest price goes assuming the market is indeed in a bearish mode after the price top.
- The RSI is also approaching 60. If the bearish momentum is to continue, we will likely see the RSI turn down soon along with price turning lower around or below $56.
- I think we should start anticipate resistance around $54.

Bullish Outlook:
- Now, if price breaks above $56, we should consider SBUX back in the bullish mode with the $64 high back in sight.
- On the weekly chart, we can see that price indeed bounced off of a rising trendline, which gives the market some hope that SBUX might still be bullish.
- But if price turns down from $54-$56 area, we are still in consolidation mode. Perhaps, the downside will be limited to $48, if the consolidation is more sideways. But if there is there is a sell-off, we should anticipate downside towards the $40-$44 area, is a wide area that represents a previous support/resistance pivot area.
SBUX Weekly Chart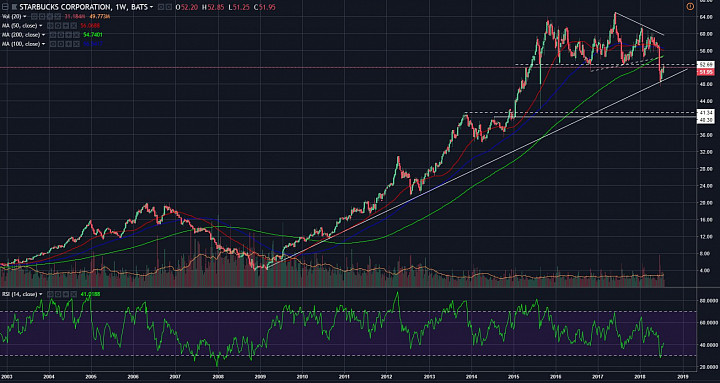 (click to enlarge)