AUD/USD Falls to Key Support Around 0.6825
In December of 2018, we saw that $AUDUSD failed a bullish attempt and turned to a bearish continuation scenario.
AUD/USD Bears Clearly in Control Again; 0.6825 in Sight
Now, after 5 bearish but choppy months of forming a descending triangle, AUD/USD finally broke lower in May, and is now approaching that 0.6825 target.
AUD/USD Daily Chart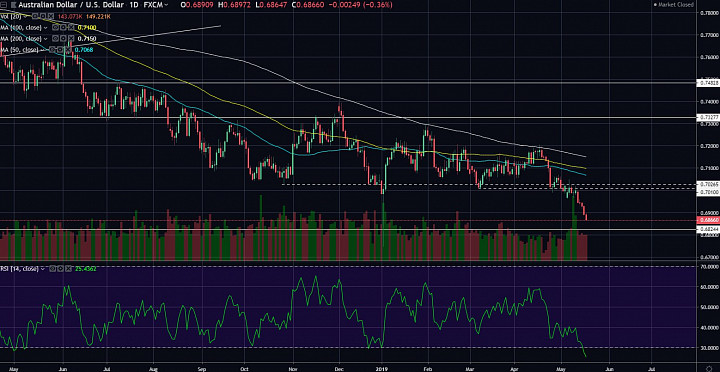 (click to enlarge)
Bearish Continuation:
- Note that during 2019, price was forming a descending triangle, which has a subtle bearish bias, especially when the prevailing trend was bearish.
- Also, price continued to hold under the 200-day simple moving average while the RSI held under 60.
- These were all signs that bears were in charge.
- In May, bears charged through the support around 0.70.
- Now, price is approaching the 0.6825 support, going back to 2016. (refer to weekly chart below)
Anticipating Support; Reward to Risk of Trade Idea:
- I am anticipating some support around 0.68, but would limit any bullish outlook to 0.70.
- Let's say we do get an entry triggered around 0.6810 with a stop at 0.6740. That's a 70 pip risk.
- If our target is 0.6960 (shy of 0.70), we would see a potential gain of 140 pips.
- This trade idea is not that aggressive and still offers a reward to risk of about 2:1.


AUD/USD Weekly Chart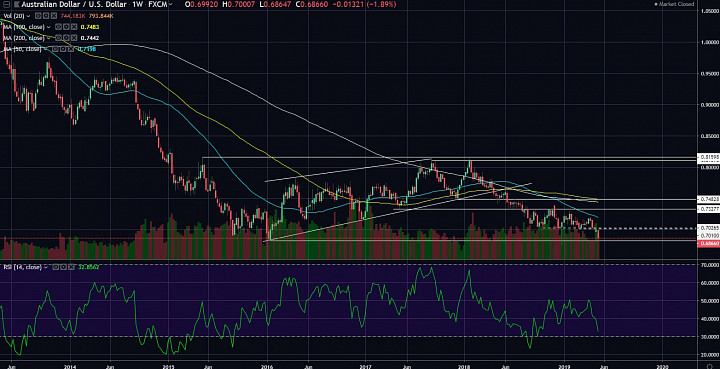 (click to enlarge)