General Motors (GM) Hovering Just Above a Critical Support Area
General Motors (GM), as well as other major car manufacturers like Ford (F) and Toyota (TM) have been sliding as Tesla (TSLA) surged in value. However, I think General Motors (GM) might find some support here between 33 and 34. 

General Motors (GM) Daily Chart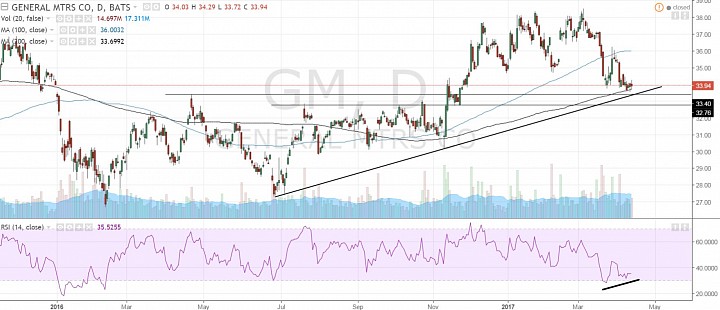 (click to enlarge)

Anticipating Support:
- The daily chart shows several reasons we should anticipate support in the 33-34 area. 
1) There is a rising trendline
2) The 200-day simple moving average can sometimes act as support and it resides in this area.
3) Around 33 is a previous support/resistance pivot area. This is a key area where we should anticipate buying.
4) We can see a bullish divergence between price action and the RSI.