Silver (XAG/USD) Cracking a Triangle Resistance with Bullish Momentum
The price of silver (XAG/USD) has been essentially trading sideways since 2017 as we can see on the daily chart.
XAG/USD Daily Chart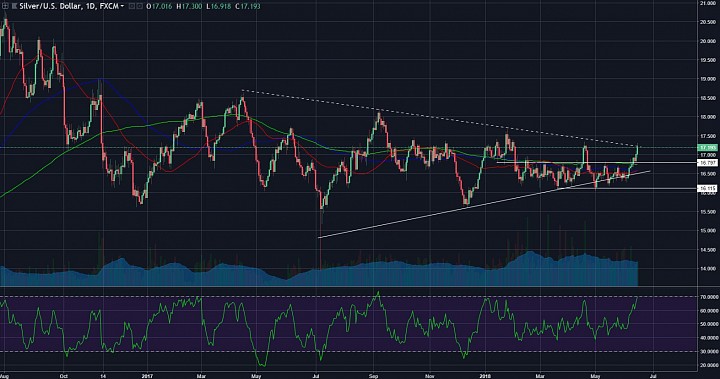 (click to enlarge)
Triangle:
- The daily chart shows that the market was bearing before entering a period of consolidation.
- The structure of the consolidation turned out to be a triangle, or at least triangle-ish.
- The support is not so clear, but the resistance has a falling trendline.
- This week, price is breaking this resistance, and thus signaling a bullish outlook.
Bullish Scenario:
- If we have price climb to 17.50 this week, we would have a clear breakout.
- Then, if price retreats, we should anticipate support at or above 16.80.
- The 16.80 area is key because is
1) a support/resistance pivot
2) the middle of the triangle, or central pivot of the overall consolidation.
3) 16.50-16.80 involves the 200-, 100-, and 50-day simple moving average cluster.
- Furthermore, we should anticipate the RSI to hold above 50, or at least 40.
- In the bullish scenario, we can anticipate upside towards 18.65, which is the top of the triangle.
- For now, since the market is sideways, we should not anticipate a rally back to the 21.00 high in 2016. Insetad, we should be a bit conservative and limit the bullish outlook to 19.50-20, at most.

Bearish Scenario:
- A break below 16.50, with the RSI falling below 40, would signal a bearish outlook instead.
- It would at least put the pressure on 16, with the prospect of falling towards 15.50.
- We should limit the bearish outlook to the 14.00 area, which is just above the 2015-2016 low.