Bitcoin (BTC/USD) Will Likely Consolidate Above $3500 Before Further Downside
We are getting deeper into the Crypto Winter of 2018.
Earlier on in the month, BTC/USD was around $6400 on Coinbase. A few weeks later, not even a month later, BTC/USD fell to a low under $3500. But I think the market is signaling a period of consolidation ahead.
BTC/USD 4H Chart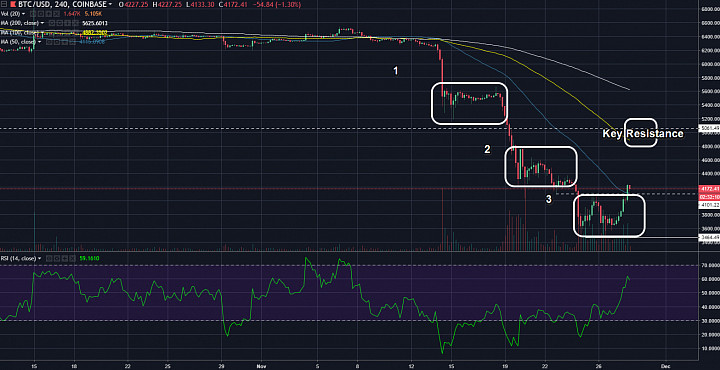 (click to enlarge)
Mini-Price Bottom:
Looking at the 4H chart, we can see that the dip has come in 3-waves down, separated by a brief period of consolidation.
In the previous 2 periods of consolidation, price remained below the consolidation resistance.
In the current case, price action was consolidating and eventually completed a double bottom.
This subtle difference suggests the market is going to settle here for a while.
But as price recovers, there will be strong resistance in the $4800-$5200 area, essentially around $5000.
The daily chart shows that $5060 was a previous support/resistance pivot. However, an even more critical resistance will be the $6000 area.
If the resistances we noted do hold, then BTC/USD will likely go into a period of consolidation, before further downside opens up towards $3000, and then $1850-$2000 area.
BTC/USD Daily Chart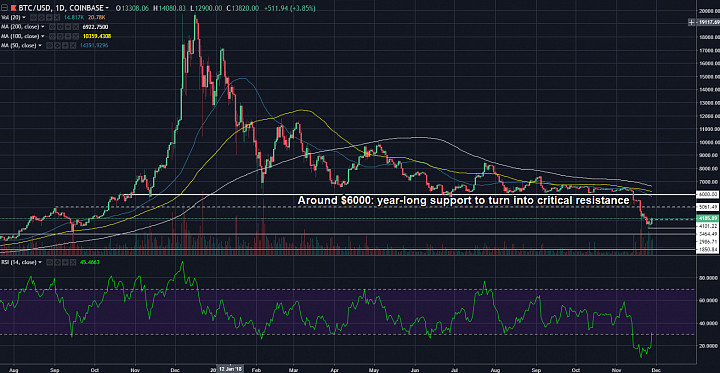 (click to enlarge)
From CoinPowR