Silver (XAG/USD) Continues to Surge; $20.50-$21 Will be Key Resistance
In July, we saw price test $16-$16.20 resistance area. We noted that a break opens up $18-$18.50, which was a resistance area. Last week, price indeed came up to this resistance area and consolidated for a couple of sessions. This week, price broke higher and is likely going to challenge the 2016 highs around $20.50-$21.
XAG/USD Weekly Chart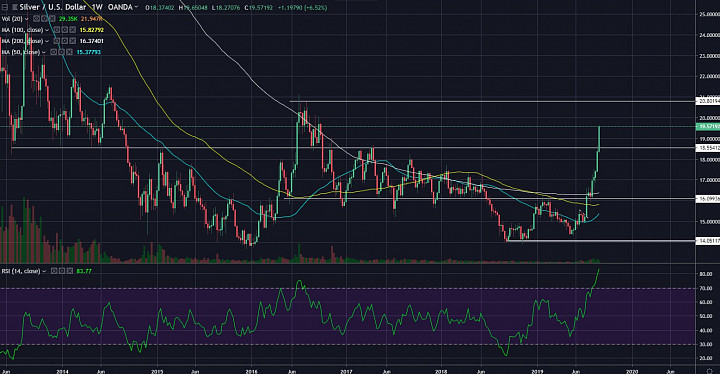 (click to enlarge)
Strong Rally:
- As we can see on the weekly chart, silver price has been surging persistently in the last couple of months.
- The rally is accompanied with relatively strong volume as well.
- It is very likely that price will at least reach the $20 area. But this area around $20.50-$21 is a critical resistance and the 2018 high.
Signaling Market Downturn
- The recent rallies in silver and gold suggest the market is putting money into safety. At least a component of the rally could be attributed to this safety perspective, while some of this rally could simply be speculation as well as algo-trading that can sometimes amplify already-strong moves.
Buy the Dip?
- I can see a pullback from $20-$21 area. After all, XAG/USD has been basically consolidating since 2014, and the $21 area represents the consolidation resistance area.
- If so, the $18-$18.50 area could be a key support for a strong bullish scenario. But with this longer-term sideways market in mind, I can see further correction.
- At this point, I have my dollar average around $15. But I wouldn't mind adding to my exposure around $16.50.
- Meanwhile, I am going to cut exposure around $20, and then $27.50, which was a previous support area from 2011 through 2012.
- A break above $22 should open up $27.50 and maybe even $30.