Gopro (GPRO) Rebounds to a Key Pivot; Anticipating Resistance
Shares of GoPro (GPRO) stopped its bleeding last week as it bounced of 7.15 fueling a lot of come-back talk. I am a bit suspicious of last week's pop. I rather the market tell me I am wrong than listen to prognostication. To me, GPRO is still in bearish momentum, and the rebound last week has brought price to a key resistance where I think there will be selling. 
GoPro (GPRO) Daily Chart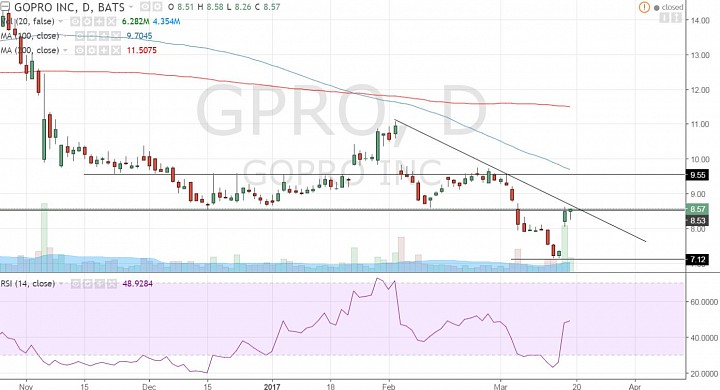 (click to enlarge)
Resistance:
- The daily chart shows that price has returned to around 8.60. 
- Here, we can see a previous support level, which could turn into resistance if the market is indeed still bearish.
- Also, there is a falling resistance. A break above 8.60 could lead to a push towards the 9.50-9.60 area, where we should also look for resistance.

Reward to Risk:
- Let's say you sell at 8.60.
- A stop at 9.10 (giving it elbow space to 9.00) with a target of 7.50, would be slightly better than 2:1 reward to risk.
- A target of 7.00 would yield a potential reward to risk of 3.2:1.