USD/JPY Approaching Key Range Support Around 108
Last time we looked at $USDJPY, we noted that it wasbreaking key support levels, which signaled a bearish swing towards the a multi-month range support around 118.
USD/JPY Daily Chart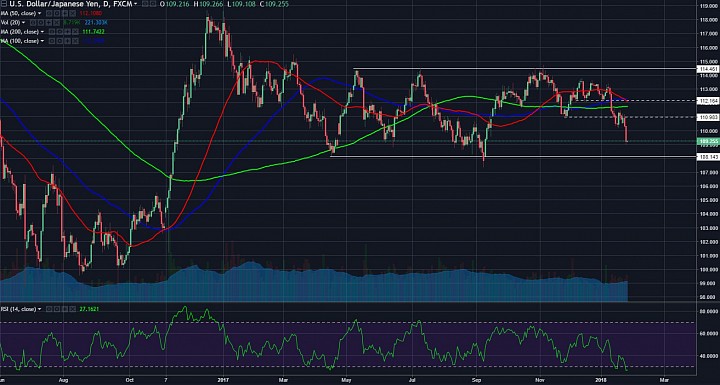 (click to enlarge)
Range Support:
- The daily chart shows a range between roughly 108 and 114.50.
- USD/JPY is approaching this 108 area, and I think we should anticipate support.
- If we see a bullish divergence between USD/JPY and the RSI when price is around 108, we should then anticipate a rally to at least test the middle of the range around 110.90-111.
- Failure to break above 111 coupled with a break below 108, would signal a bearish outlook at least towards 104 if not the 2016 lows around 100.
- The fact that the trend was relatively bullish before USD/JPY started ranging suggests we should respect the 108 area for support.
- However, because that bullish trend in October-November 2016 could have simply been a corrective rally, against a prevailing downtrend, we should anticipate resistance around 111.