Bell Canada (BCE) - Monitoring Support in the $42 to $43 area
Bell Canada has been in a sideways market since 2013. Before 2013, BCE has been bullish, so we can call the price action since 2013 consolidation. There was a sharp dip in 2015, but the overall market is still sideways. If we just look at the range since late 2016, we have a range between 41.95 to 49.05.
BCE Weekly Chart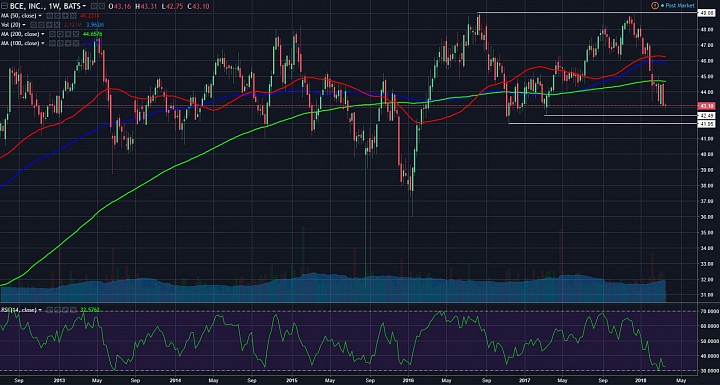 (click to enlarge)
Support Coming up:
- Price action has been bearish in 2018 after price was rejected from going above 49.05 at the end of 2017.
- The weekly chart shows why we should monitor the $42-$43 area for support, especially if the RSI is below 30.
- Now, the upside should first be limited to the $45-$46 area just in case the market is trying to form a double top.
- But because the prevailing trend is bullish , we can have some confidence that price can push back to $49 by the end of the year.
- A break below $41.90 would make it really hard to judge what the market sentiment is, but holding above it can be seen as a sideways-bullish market.