EUR/JPY in a Bullish Breakout with 137 in Sight
EUR/JPY has been in consolidation and bearish correction mode since February this year after price cracked 137. It looks like the mode has been shifting from bearish correction to sideways consolidation, and now bullish.
$EURJPY Daily Chart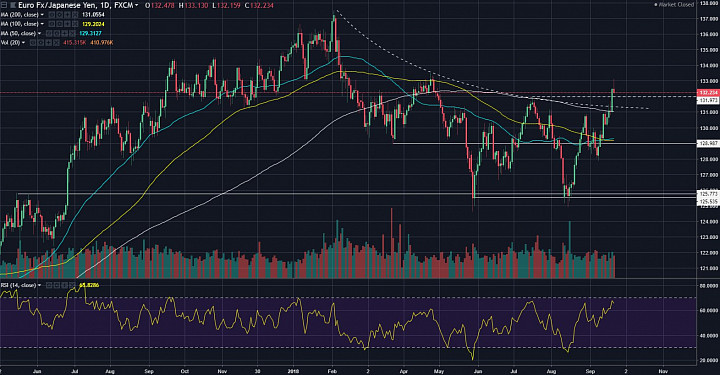 (click to enlarge)
Bulls Back in Charge?
- Note that EUR/JPY was bullish entering 2018.
- We can see that price was in bearish correction for most of the first half of 2018.
- Then, price held above 125 for the most part. The ability to hold here was evidence that long-term bulls are still in control despite the medium-term bearish correction.
- After holding here twice, EUR/JPY confirmed that it was no longer bearish but sideways.
- Then, with the bullish breakout above 132 last week, EUR/JPY signaled bullish continuation, or at least revived upside towards the 137-137.50 area.
Pullback?
- I think if price pulls back, a bullish trend should find support around 131.
- But even if EUR/JPY falls to 129, I think the bullish outlook would still be valid.
- A break below 129 on the other hand suggests downside back towards the 125-125.50 area.